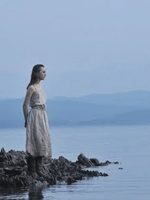 I took in a second screening of Peter Weir's "The Way Back" last night after seeing and loving it at the Telluride Film Festival last month (enough to write about it a second time while I was there, in fact).  What was confirmed for me was that the majesty of the film and the overall sense of atmosphere Weir establishes and maintains makes it one of the very best films of the year.
A few other things stuck out, too.  I was always taken by Ed Harris's "Mr. Smith" character and his fatherly relationship with Saoirse Ronan, but it's a defining arc within the piece that is transcendent and could help make a solid case for Harris in the supporting actor race.
I was also struck by the makeup, which feels authentic and adds a notch of intrigue when this wound or that is revealed.  You'll recall "Master and Commander: The Far Side of the World" was nominated in the field seven years ago for similar work.  Both of these aspects were touched on in the post-screening Q&A with Harris, producer/co-writer Keith Clarke, producer Joni Levin and executive producer (and longtime agent for Weir), John Ptak.
Speaking of the Best Supporting Actor race, I still think this is an exemplary performance from Colin Farrell that deserves to remain in that discussion.  It's one of his best performances, hands down, one of his most organic and believable portrayals.
Let's see, what else?  Oh, the score.  Man that didn't hit me as heavily the first time.  Burkhard Dallwitz is really just working with a couple of pieces, but they're gorgeous pieces.  It's sweeping work that, if it came from a composer who seems to be in the Academy "club" as it were (it's a very insular branch), then I'd have no problem predicting it.  He deserved a notice 12 years ago for "The Truman Show" in my book.
I'm really hopeful this film will be seen and appreciated by the Academy (not to fall too deep into advocacy).  It's the kind of filmmaking that deserves a place in the 10, because who knows how much longer we'll get epic independent endeavors like this.  They just don't make them anymore.
Interestingly I got there later than most, so the better seats were taken and I had to settle on something closer to the screen.  At first I thought it would be a drag (and I tend to be a back row guy), but it's a film and a breed of craftsmanship that just sucks you right in.  It felt like the best seat in the house.
And I remain dumbfounded that what shows up on the screen was brought in under budget for a meager $29 million.
Anyway, here's that aforementioned Q&A, moderated by Deadline's Pete Hammond as part of the KCET screenings series:
[display_podcast]