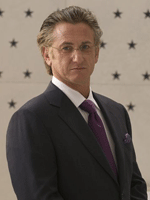 Scott Feinberg is reporting that Sean Penn, who gives a rather wonderful performance in Doug Liman's "Fair Game" with much more meat on its bones than Naomi Watts's somewhat internalized work, will be pushed in the supporting category rather than lead.
Uh…why?  First and foremost, I'd consider this a lead performance, but whatever, category fraud happens all the time and there are probably multiple perspectives to be had on this particular role.  But I just wrote about the lead actor category Monday and noted that there is some softness outside of the generally agreed upon three (Colin Firth, James Franco and Jeff Bridges).  The opportunity is ripe.
Meanwhile, the supporting actor category seems to be settling in.  I feel like I've had the same five checked off for a month or two now.  Where are the cracks in that armor?  How does one look at that category and think it's an easier climb?
Alright, so if anyone is really weak I'd say it's Sam Rockwell who, despite his award at Monday night's Hollywood Awards Gala, gives a performance in a film that didn't exactly impress critics.  And Fox Searchlight's advertising scheme doesn't yet look to include a considerable push for "Conviction" (or "Never Let Me Go," for that matter).  So maybe there's a chance he falls out, but really, the lead actor category is where you want to make that move, I think.
It's great work from Penn and I imagine Summit thinks this is the best way to find room to navigate this season.  But, well…I'm skeptical.  But what do I know?
[Photo: Summit Entertainment]