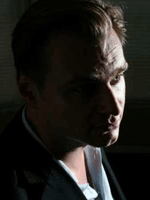 Christopher Nolan is hard at work on his third foray into the world of the Caped Crusader.  Recently Tom Hardy was cast in an unspecified role.  The latest word is that he's busy trying to nail down the female lead in the film (we don't know who the character is yet).  And today, two more nuggets.
First, the film has a title, as reported by Geoff Boucher at the LA Times' Hero Complex blog: "The Dark Knight Rises." I am…not digging it.  At all.  It's so dry.  It feels pedestrian, incidental, something.  But what's in a title, right?  "Batman Begins" was kinda lame for a title, I thought.  But then "The Dark Knight" worked off of the potent thematic mojo going on in the script.  This is just the usual "He's baaaaack" kind of thing.  Meh.
Next up, Nolan revealed to Boucher that the villain in the film is NOT the Riddler.  Most have just assumed Hardy was cast in that role, but now it looks like the character isn't even in the film.  And part of me is really happy about that.  I'd have loved to see Nolan's take on the Riddler, don't get me wrong.  But I think the series desperately needs to go its own way character-wise in this third installment, so I'll be very excited to see who's who.
Boucher's blog post was more of a preview for a larger piece still to come, but here's a nugget:
Nolan plays things close to the vest — he's one of the few filmmakers of his generation who actually does wear a vest — and he chuckled when I tried to get a few more details out of him. "Oh, you know me, I don't talk." He began our conversation by comparing it with a visit to the dentist's office. Well, if so, he's a patient who never opens wide. I asked if he could imagine a time when Warner Bros. would let a filmmaker shoot a Batman script where the villain isn't one of the signature creations from the comic books. "Ah, Geoff Boucher, master of the leading question," he said with a chuckle.
Also eliminated as a possibility, Boucher says, was Mr. Freeze, so the guessing game continues. But it won't be concerning "Batman 3" or "'The Dark Knight' sequel." From now on, call it "The Dark Knight Rises."
[Photo: Los Angeles Times]