Way back in the mists of 2001, the very first "Harry Potter" screen outing (don't ask me to distinguish the titles) received an Oscar nomination for Best Costume Design. It even managed to win the Costume Designers' Guild award — and that was before they created a separate category for fantasy film.
No subsequent entry in the series has managed to repeat either feat, and if the current accusations of sartorial stealing being levelled at Jany Temime, costume designer for "Harry Potter and the Deathly Hallows: Part 1," are anything to go by, we shouldn't hold our breath for a change in that pattern. It seems Temime has aggravated many in the fashion industry by claiming as her own concept a wedding dress, crucial to a climactic scene in the film, that looks irrefutably similar to a revered 2008 design by the late Alexander McQueen: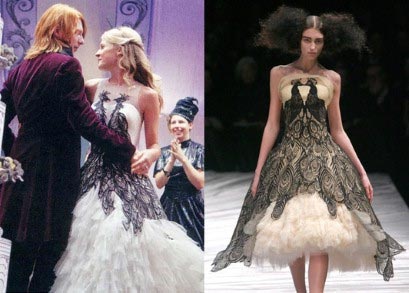 The problem, of course, is not Temime's recycling of the design — many film costumers riff off high fashion, including, as Variety critic Leslie Felperin noted, potential Oscar contender Sandy Powell in "The Tempest" — but her failure to credit McQueen in an LA Times interview where she discussed her inspiration for the costumes, and the dress in particular:
For the wedding dress, I wanted it to be a witch wedding dress but not a Halloween dress. The dress is white but it needed to have something fantastic to it. So there is the phoenix [motif], the bird, which is a symbol of love in a way  because there is rebirth, love never dies, it is born again. So we have that in front of the dress to give a feeling of eternal love. It was the symbol of Dumbledore, too, but it is the symbol of love for the dress.
Temime could claim the similarity is coincidental, but that is unlikely to appease her critics. Perhaps McQueen's name should be added to the film's closing credits thank-you list at some point between now and the film's release on November 19.
[Photo: The Daily Telegraph]