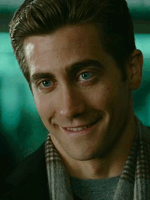 I went into last night's screening of Edward Zwick's "Love & Other Drugs" wanting to love it.  I really did.  There was an opportunity here to delicately balance comedy and drama, tell the story of a man's journey to maturity against the backdrop of a very serious socio-political issue — the pharmaceutical industry — and tie together themes of responsibility and compassion.  At the risk of being reductive, it could have been this  year's "Up in the Air."
Unfortunately, the film just never finds that balance.  There are too many ingredients in the soup, many of them tasty.  But they clash in the mixture.  Take Josh Gad's portly, foul-mouthed brother to Jake Gyllenhaal's suave corporate pill pusher.  I laughed at this guy a lot, but it never felt organic to the film.  It was arbitrary comic relief lacking any real commentary on the narrative.
Meanwhile, Anne Hathaway — a talented actress who will no doubt win an Oscar one day — does well by the material but she's asked to play a one-trick, woe is me character who never finds a genuine end to her arc.  And that could have been intriguingly the point, but it feels more like a concept stretched thin rather than one filled in with nuance.
Jake Gyllenhaal offers potentially the film's best performance, but it is owed so much to charisma rather than what's on the page.  And again, there was an opportunity here to expand thematically rather than run through the usual high-gloss romantic comedy motions.  There was a gold mine of potential in a doctor character, played by Hank Azaria, but it is squandered.  Even the one scene that promises to break into this intriguing and important territory is cut short and sacrificed for a pointless ménage à trois beck and call gag.
Okay, it's not entirely fair to say the film goes through the motions.  I appreciated how intimate Zwick got with the love making in this film.  It's authentic, and in a range of emotional dispositions, no less.  But it also started to feel like a way to manifest some kind of connection that really wasn't taking hold otherwise.  Hathaway eschewing the typical movie orgasm in favor of a believable human moment doesn't fully work if the foundation isn't in place.
Then there are the musical cues, which are probably outnumbered only by "Morning Glory" this year.  Zwick seems unwilling to just let the imagery tell the story.  He has to hit things square, drive home the point.  If only he'd just allow himself to be a bit more suggestive, I think his eye for a good story would yield an exceptional piece of cinema.
"Love & Other Drugs" is set to open AFI Fest on November 4.  It hits theaters nationwide on November 24.
[Photo: 20th Century Fox]