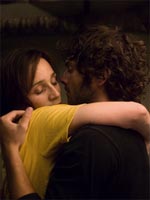 "I think the French have always enjoyed older women, and they're right to do so," Kristin Scott Thomas told me in an interview nearly two years ago, when asked about the range of opportunities for actresses over 40 in the French film industry. "A life has been lived. There's so much more at stake. The French get that, and as an actor, I'm glad for it."
She's right, of course. Whereas every Hollywood victory for a middle-aged actress — be it Sandra Bullock's Oscar win, Meryl Streep's box-office clout or the year-long buzz for the two-pronged attack of "The Kids Are All Right" — is accompanied by assorted talking heads and op-eds proclaiming the significance of the achievement, the French see nothing especially remarkable about a fiftysomething woman headlining a major production.
Leading ladies in that country tend to remain so for their whole careers — and remain busy at that, dipping into character and ensemble roles while being regularly rewarded with generous individual showcases. This year alone, we've seen Juliette Binoche take Best Actress at Cannes for the elaborate thespian gymnastics of "Certified Copy," while Catherine Deneuve earned plaudits at Venice for "Potiche," a frothy crowdpleaser that is essentially one huge valentine to the actress.
This trend has extended to the London fest, whose excellent French Revolutions sidebar this year featured three titles spotlighting two of the country's most revered, and hardest-working, actresses: Isabelle Huppert and part-time Brit Kristin Scott Thomas. All three are interesting but minor-key pieces, serving primarily as platforms for their respective leading ladies to strut their stuff; in all three, happily, said ladies strut rather splendidly.
Doing double duty is Huppert, the star attraction of both Jeanne Labrune's curious, kinky black comedy "Special Treatment" (**1/2) and Marc Fitossi's considerably fluffier entertainment "Copacabana" (***). (With the actress having also hit UK cinema screens this year in "White Material" and "Villa Amalia," local critics are likely wondering when she sleeps: "Do the French have some kind of loyalty card system where Huppert gets a free meal every tenth film she does?" mused one journo at the second film's press screening.)
Though both films see the actress — who has rather established herself as the queen of arthouse severity in recent years — flexing her funny bone, "Special Treatment" is the more recognizable Huppert vehicle, furthering her long-cultivated fascination with off-kilter female sexuality and self-punishment. She plays Alice, a high-earning executive prostitute specializing in fetish fantasy roleplay — with a side hobby as an expert antique collector. Increasingly weary of her profession, she finds herself flummoxed by new client Xavier (Bouli Lanners), a shy, unhappily married psychiatrist desperate to unload his own couch confessions; their mutually reflective exchanges prompt Alice finally to pursue a new path.
This is chic yet adventurous comedy material, and Labrune keeps things ticking over nicely in the opening reels, with Huppert a scream in her various elaborate fetish getups — from black-leather dominatrix to flouncy 1950s housewife, she executes these absurd mini-performances with palpable relish and just a hint of self-parody. But both the fun and the insight dwindle in a wayward second half that keeps clumsily reinscribing already obvious parallels between Alice and Xavier's respective brands of therapy, before a sharp lurch into grimly sentimental mental-illness moralizing. Still, no film with a scene that features of a latex-clad Isabelle Huppert haughtily tossing raw steak into a dog dish counts as a waste of celluloid.
Still, if it's the sight of La Huppert playing dress-up that you're after, you'll be just as well served, and more consistently entertained, by "Copacabana" — which places her in full Indian traditional dress near the beginning, and ends with her performing a salsa routine in a feathered Rio carnival headdress. In between these costume changes lies a meringue-y wish-fulfilment comedy that may wish to appropriate (and rename) the legendary "Ninotchka" tagline "Garbo laughs!" Unlike the film discussed above, this one does find the actress cast gratifyingly against type: as Babou, a kooky, workshy single mom with a wardrobe made up of Sally Hawkins's castoffs from the "Happy-Go-Lucky" set, she is as as endearingly imprecise as she's ever allowed herself to be on screen.
The mandatory opposite number comes in the shape of Babou's squarely serious daughter Esmé (Huppert's real-life offspring Lolita Chammah, looking eerily like the actress in her fleshier early days), whose barring of her mother from her upcoming nuptials prompts Babou to pursue a bumbling but unexpectedly successful career in timeshare sales. The artless premise promises a throwaway situational comedy — not exactly given credence by one doozy of a deus ex machina in the final act — but it's lent weight and texture by the well-played, movingly fractious conflict between mother and daughter, and its droll, spirited lead performance. I expect a Susan Sarandon-Mia Wasikowska remake to drop sometime around 2013.
Last year's festival introduced me to "Leaving," a no-frills romantic thriller kicked into touch by a vividly sensuous star turn by Kristin Scott Thomas. This year, that film has its direct equivalent in Lola Doillon's "In Your Hands" (***), a tight, terse but finally rather thin psychodrama that the French-adopted actress once more endows with considerable class and emotional intelligence. The setup is simple, even a little theatrical: Scott Thomas plays gynaecological surgeon Anne, who is kidnapped and help captive on the eve of her annual leave by a handsome but unbalanced young man (Pio Marmai) with a gradually revealed professional grievance against her.
It's not particularly difficult to forecast that a Stockholm-syndrome narrative kink is on the cards, and Doillon holds this supposed twist too close to her chest for too long — though matters improve in the final act, as the characters make a series of cunningly off-message decisions that cast aspersions on Anne's victim status. Scott Thomas helps the cause by playing her with a mixture of vinegary superiority and frayed-nerve desperation: her character is rivetingly unpredictable even when the script forces her into more expected patterns of behavior.
The film is neither as tidy nor as satisfying as "Leaving" — and it'd be nice to see the actress work with some pushier directors — but it's a thrill to see her socking the hell out of these flinty, sexy genre items that Hollywood wouldn't hand to anyone much older than Angelina Jolie.
[Photo: Mars Distribution]