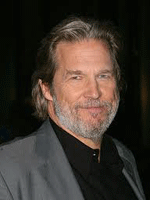 So Tom O'Neil is reporting at Gold Derby that Jeff Bridges will be hosting Saturday Night Live on December 18.  I did some poking around and it looks like he was supposed to host some time next month, but I guess that's been pushed closer to the Christmas release date of "True Grit" and, more fittingly, the day after the release of "TRON Legacy." (Good on this guy for calling it.)
Whatever the case, if true — AWESOME.  Obviously a hosting gig on SNL does plenty to boost the awareness of a big holiday or awards season film, but to the best of my knowledge, this would be the actor's first time hosting solo.  He apparently co-hosted with brother Beau back in 1983.
And really, who doesn't want to see this?  Alright, let's take bets.  There's sure to be a silly "TRON" send-up.  Probably some Dude material (cast members dressed as The Dude in the stands during the monologue, perhaps).  Etc.  Anyway, can't wait.