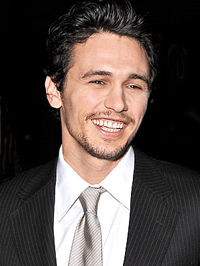 James Franco sits in one of the countless, nondescript rooms on the sixth floor of the Four Seasons hotel in Los Angeles remembering the time he first met mountain climber Aron Ralston in the same building, perhaps in a room not unlike this one.
It wasn't even a year ago — January, to be exact, right around the time of the Golden Globes. Director Danny Boyle had recently offered the actor the role of Ralston in "127 Hours," a film that would depict the harrowing six days the outdoorsman spent with his hand wedged between a boulder and a canyon wall. It was an ordeal that ended with Ralston cutting off his own arm, just below the elbow, in order to survive. And the film would — naturally, given the material and the filmmaker involved — be anything but conventional.
But Boyle was adamant that the performance not be an "outside-in approach," as Franco puts it. It couldn't be slavish mimicry of personality or behavior. But there was this abstract idea of confronting one's potential demise that remained somewhat elusive for Franco, yet something he nevertheless wanted to reflect in authentic terms. Little did he know he'd find the answer during that first meeting with Ralston, Boyle, writer Simon Beaufoy, producer Christian Colson and production designer Suttirat Larlarb.
"He showed us the real videos he had made [while stuck in the canyon]," Franco recalls. "After that he spent days with us, spent hours and hours talking about what he went through and what he did and the actions he took, which was very helpful. But on those videos, it's Aron in the middle of the situation, not knowing that he's going to get out. That Aron doesn't know that there's a happy ending. So as an actor, it's not only that I'm listening to what he's saying, I'm trying to absorb the behavior, because it's the behavior of a guy who thinks he's going to die and is trying to put on a dignified front for his friends and family because he doesn't want to wallow in self pity in the last messages he's going to give them."
It was an "actor's goldmine," Franco says. "Yeah, I can get footage of James Dean in his movies or Allen Ginsberg interviews. But it's not them at the height of their most dramatic moments in their entire lives. It's not James Dean confronting his real dad. It's just James Dean confronting Raymond Massey in a movie. It's Allen Ginsberg just giving a relaxed interview like this. But it's not Allen Ginsberg with his heart broken or the moment he got arrested or in the insane asylum. You never have that — ever — as an actor."
A mere eight months later the film was ready to screen for the first time publicly at the annual Telluride International Film Festival, and that's where Franco finally got the chance to experience Boyle's creation (and his own contribution) with an audience.
"I felt like I just shared something really intimate with everyone," he says. "Just because of the way it's shot, it's an experience. I was like, 'Whoa, I just shared something really close with all of these people.' But what I love is that Danny can do a movie like this, a movie with a guy alone in one spot, which sounds conceptually very interesting, but probably in a lot of people's hands would not be the most action-packed movie or most dynamic kind of movie."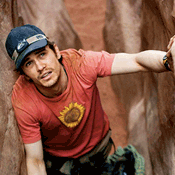 Franco is measured with his responses, but never at the sacrifice of spontaneity. His voice booms, loud but conversational. He engages in thoughtful discussion rather than offering canned patter. He wears a simple leather jacket, unremarkable jeans, dirty white sneakers — just a guy. But you can sense the charisma that all actors have to exhibit in order to make a mark in the film business.
And so Franco has. He first turned heads in the lead role of television's "James Dean" biopic before parlaying that success into a central role in Sam Raimi's "Spider-Man" franchise. He's worked with Robert De Niro, Robert Altman, John Dahl and Paul Haggis along the way, but always manages to mix it up. In 2008 his performance in the stoner comedy "Pineapple Express" and award-winning work in Gus Van Sant's "Milk" proved the point.
A run on the television soap opera "General Hospital" and a slew of graduate studies that began in 2006 — from UCLA to NYU to Columbia to North Carolina's Warren Wilson College to, currently, Yale — further make the case for Franco as an artist interested in plenty and willing to take the plunge. In many ways, that made him a perfect consideration for the role of Ralston, a free-spirited former engineer with both an intellectual side and an unabated lust for life. And Boyle may well have been the best director to focus that passion into a film that might have been taxing under a less enthusiastic director's helm.
"I think Danny got the best out of me," Franco says. "He is, first of all, an extremely enthusiastic person, especially when he's making movies. I think one of the things that drives him is he likes to challenge himself in order to find new ways of doing things, so on this movie, having a single actor in a single location for most of the movie was a challenge, because he's also a director that likes to entertain. So how do you take that situation and make it dynamic and exciting, which is really what he wanted to do and what he kept asking himself throughout?"
The question was answered in Boyle's unique visual vocabulary. The camera finds its way into every nook and cranny of the canyon, inside steadily depleting bottle of water, even inside Ralston's arm. But while Franco understandably heaps praise onto Boyle's process, none of that would have mattered much without an engaging, controlled performance front and center.
The first time Franco met the director, there was a misunderstanding. Boyle, in his usual excited form, told the actor they were going to shoot on a sound stage in Utah but that they were also going to head out to the real location of the events in Canyonlands National Park and "just do it." Franco is embarrassed to admit it now, because it sounds crazy to him, but he took it much more literally than Boyle had meant it.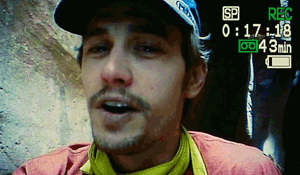 "I knew they wouldn't dehydrate me or deprive me of food or anything like that," he says, "but I thought, 'Oh, it'll be almost like an endurance piece. Let's just replicate the real thing. Wow. And they'll have all these digital cameras and they can just shoot as much as they want or if there's an interesting moment just capture it.' In hindsight that sounds insane that that's what I thought they would do, but something of that idea stayed with me. So when he said to me, 'I want you to just try to pull your arm out. Do anything you can to get that arm out, bashing yourself, kicking, kneeing, everything,' it was like, 'Oh, okay, this is going to take endurance, and physical endurance. It's something that's going to be both exhausting and bruise me and I'm going to feel it.' And in a lot of ways that was very, very liberating."
Early on Boyle settled on the idea of long takes, 15 or 20 minutes each, that would help him find the performance he was looking for. He wanted an organic experience, Franco says, one that, once again, reflected authentic behavior.
"I'm sure it took a lot of trust to let me roll with it, give me a lot of direction before and just trust that I would find it along the way," Franco says. "But it was also possible because of the technology he was using, the cameras he was using that could shoot for those long periods of time, but also were very mobile and could readjust during those long takes. What all of that adds up to is knowing that this movie was unusually structured, had unusual requirements, it was great knowing I was working with Danny, who is someone who embraces that kind of experimentation and that this was exactly the person to make this movie."
And Franco was game from the starting gun. He was willing to go there for the director, finding any and every nuance of a character caught in a predicament such as this. "It was acting in the sense that, yeah, I'm on a set or yeah, my arm isn't really trapped or whatever," he says, "but in another sense, I'm really trying to do these things, I'm really getting exhausted. It's like taking some of the acting out of it and it was just experiencing, which was great."
He just asked one thing of Boyle: "Make sure you get it."
As the film makes its way toward its November release date, the awards talk that began at Telluride is inevitably heating up. But make any mention of a potential Oscar nomination and Franco just offers a nervous laugh and smile that seems to reflect appreciation more than anything else. The goal was always to do right by a man's life — a fragile thing — and capture it in a most engaging way. By most accounts, it was a mission accomplished.
"Danny is able to make a movie on this subject and almost make it feel like a ride," Franco says. "I love that he can do that, that he can work with these very unusual subjects or even genres like the zombie genre that have been worn down to death and revitalize them and make them entertaining and make them new. He can do both. He can make artistic movies that are also extremely entertaining and dynamic, and I think that's an amazing achievement."
"127 Hours" opens in limited release November 5.
[Photos: Top News, Fox Searchlight Pictures]