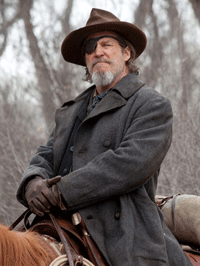 About a year ago I took to examining the 2009 Best Actor race.  The frontrunners for five slots seemed to be, in order, George Clooney, Colin Firth, Jeremy Renner, Morgan Freeman, Daniel Day-Lewis, Viggo Mortensen and Robert De Niro.
A day later press members received their first invites to "Crazy Heart" screenings and were notified that the film would be released in 2009.  Jeff Bridges hit the ground running and never let off the gas until he was past the finish line.
A year earlier we were looking at a pair of politico-biopic portrayals, either one of which would make a handsome winner: Frank Langella and Sean Penn.  But we were fairly sure the latter would be on his way to the podium one more time.
But soon after, Mickey Rourke's festival buzz caught serious fire and forged an atmosphere of doubt.  The season's narrative seemed to be changing, and yet the early buzz carried through and brought Penn his Oscar.
So that's two drastically different directions – in as many years – that a lead actor race can take.  Given the mid-October fulcrum shared here, let's consider our perspective on the Best Actor category right now.
Bridges zipped through the 2009 season with such aggressive inevitability that Clooney, Firth, Freeman and Renner couldn't even make a race of it.  And there was very much a race to be had.
This year the actor and his work in "True Grit" rides a sight-unseen buzz wave into a conversation already being dominated by Firth in "The King's Speech." But the talk around James Franco in "127 Hours" has smartly kicked in just long enough before these three crash at the top to have a solid enough foothold, one that might even pull him out of the fray with an Oscar in his hand.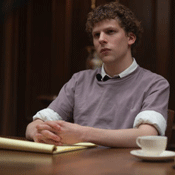 Beyond that there is room to maneuver.  Robert Duvall has a well of goodwill built up around his performance in "Get Low," while the other side of the age spectrum sports a contender with his fair share of proponents, too: Jesse Eisenberg in "The Social Network."
A number of actors have two shots on goal, all of them captivating.  Ryan Gosling, for instance, brings his unique charisma to "Blue Valentine" (which I'm sticking my neck out for in this week's predictions update) while internalizing a darkness with equal skill in the much less-engaging "All Good Things."
Leonardo DiCaprio boasts two performances in "Inception" and "Shutter Island," but genre bias rears its head most often in the acting fields.  Meanwhile, Ben Affleck faces the potential of a below-the-radar year with really nice work in "The Company Men" and "The Town."
A smart hunch might be Javier Bardem building on praise for "Biutiful" or artfully dodging criticism of it and remaining unscathed for an inarguable high point performance in his career.  But it really is a situation that could fall either way.
If there is room beyond King George VI and Aron Ralston in the biopic arena, Mark Wahlberg in "The Fighter," Sean Penn in "Fair Game" and Kevin Spacey in "Casino Jack" are waiting for a crack, but that's a big "if."
The indie sector hosts a typically diverse array, from the comedic (Jim Carrey in "I Love You Phillip Morris") to the dramatic (Aaron Eckhart in "Rabbit Hole") to a mixture of both (Paul Giamatti in "Barney's Version").  Also worth noting is Stephen Dorff in "Somewhere," the best part of an otherwise taxing experience but more likely to be remembered by critics groups than the Academy's acting branch.
And then, the studio dramedies that always feel like an uphill battle for leads, this year with Paul Rudd in "How Do You Know" and Jake Gyllenhaal in "Love & Other Drugs" representing.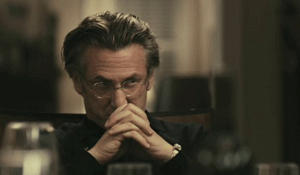 So what's lurking around the corner?  There isn't really a "Crazy Heart" primed and ready to pitch relief.  And there isn't really a performance waiting to take off as Rourke's did in 2008 (though one could argue for Franco in that light).  But just when it starts to feel like "the great settling" in this category, something – or someone – always stirs the pot.
One possibility being talked up as of late, and bringing us up to 22, is Michael Douglas in "Solitary Man" (which we covered at Toronto in 2009).  But I think it should be said that, without Douglas's unfortunate health situation as of late, this would not be in serious discussion.  It's a great performance, but one not all that well-served by the film.  Chalk it up to opportunism, perhaps, but the publicity machine is in full swing regardless with Deadline and The New York Times recently paying lip-service.
Oh, let's make it 23.  Jim Sturgess may not offer the kind of showy leading turn that stands out in a lead actor race, but he's a solid anchor throughout and, should "The Way Back" take off, he could be a big part of this conversation in a hurry.
Mostly it's just intriguing to me that the field feels so soft after three assumed shoo-ins (only two of which have even been seen).  This race could get exciting.
The Contenders section has been updated throughout and the predictions sidebar adjusted as well.  A reminder, you can keep track of what Gerard and Guy are thinking at their own prediction pages (always linked in our About Us section and at the bottom of the right sidebar).