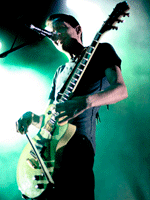 As we did last year, we're going to bring you as many of the Best Original Song contenders as we can this season in these "listen to" posts.  I'm going to aim for two or three per week, all leading up to the Best Original Song Tech Support column on December 9.  By then, we should have a clearer idea of the category.
We kick things off with "Sticks & Stones," a closing credits track from DreamWorks Animation's "How to Train Your Dragon" by Sigur Rós front man Jónsi Birgisson.  As we know, the Academy's music branch views the original song contenders in the context of the films these days, so tunes that play over the closing credits have their work cut out for them.
Sometimes, if the credits are part of the story (i.e. "WALL-E" or "Waiting for Superman"), a song will have a fighting chance.  That will be tough for Jónsi's track, which just plays over a traditional credit roll (albeit accompanied by handsome storybook sketches of the film's winged serpents).
By the way, if you're wondering what the Sigur Rós connection is to the film, co-director Dean DeBlois actually helmed a documentary on the group, "Heima," back in 2007.  Have a listen to "Sticks & Stones" below and keep up with the original song contenders at the category's dedicated page.
[display_podcast]