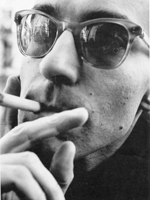 First it was announced that legendary French auteur Jean-Luc Godard would be one of this year's Honorary Oscar recipients at November's Governors Awards.  Then the Academy was having a hard time finding him.  Then Godard's girlfriend conveyed the sentiment that Godard might think the ceremony beneath him.  Now, the official news drops that — as if we didn't see it coming — he'll wait for the FedEx guy to bring it round.  Via AMPAS press release:
The Academy of Motion Picture Arts and Sciences announced today that, following a two-month-long cordial exchange of correspondence with Academy president Tom Sherak, Jean-Luc Godard has regretfully notified Sherak that he will not be able to attend the November 13th Governors Awards and receive his Honorary Award in person.

"He reiterated his thanks for the award," reported Sherak, "and also sent his good wishes to the other individuals being honored the same night – Kevin Brownlow, Francis Ford Coppola and Eli Wallach – who he refers to as 'the three other musketeers.'"

The November 13 dinner ceremony, which is being produced by Sid Ganis and Don Mischer, will pay tribute to Godard through film clips and commentary by his admirers. The award will be accepted on Godard's behalf by the Academy and following the event, the Academy will arrange for the Oscar® statuette to be delivered to him in Switzerland.
[Photo: mardecortesbaja]