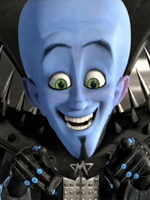 Was I just in a really good mood Saturday night or did DreamWorks' "Megamind" send me out of the theater with a legitimate smile on my face?  The 3D never gets in the way, the concept is sound and crisp, the voice talent is top notch and it doesn't feel like everyone's just going through the motions (probably because Will Ferrell was passionate about the story, which he had a hand in conceiving).
Most importantly, it was a damn good time at the movies.
I'm fairly high on animation in general this year.  Pixar's "Toy Story 3," of course, is one of the year's best, as is DreamWorks' own "How to Train Your Dragon." Disney's "Tangled" manages to stay fresh and progressive within the familiarity of the studio's classic fairytale offerings and Sylvain Chomet's "The Illusionist" is as touching as they come (with the year's best score to boot — though a recently filed lawsuit over the copyright of the title could keep the film off the books this year).
I wasn't as keen on Universal's "Despicable Me," though it certainly has its fans, and I haven't caught "Shrek Forever After" (which surprisingly has its share of supporters) or "Legend of the Guardians: The Owls of Ga'Hoole" (which is said to offer up some gorgeous animation and breathtaking imagery).  Now I kind of want to dive into the fringe titles – "My Dog Tulip," "Summer Wars," etc. — but there are still only 14 submissions so far.  And two of them — "Idiots and Angels" and "Yogi Bear" — may not qualify for different reasons.  Meanwhile, the submissions deadline is a week from today.  But to have just three, that's a shame, because obviously, some good animation will be left out in the cold.
But back to "Megamind," I was kind of reminded of "The Incredibles" throughout.  It's not fair to compare, but that 2004 Pixar entry never got me as excited as it did most everyone else.  There was always something arbitrary about it, though it was certainly a fun ride.  "Megamind" manages to really turn some of these concepts on their ear, and it works well without being lofty or overly profound or anything.  I headlined my Comic-Con entry on the film's presentation "'Megamind' inverts comic genre tropes," and it's still applicable, I think.
Plus, I was chuckling throughout.  I rarely laugh much at Ferrell's antics, but married with the animation and this concept, it worked for me.
If there were five nominations, I might consider this a legitimate contender, but it's just going to be difficult with three.  Anne and I discussed how the field might play out in Friday's podcast, and nothing much will change, I'm betting.
"Megamind" opens nationwide November 5.
(P.S.: If you're one of those who was up in arms at the gall of the most recent trailer, which seemed to give away some key plot elements — well, yes and no.  That's all I'll say.)