UPDATE (10/26): Kris here, following up on Guy's report yesterday.  I'm told there is correspondence between reps from the film and AMPAS acknowledging that the film would not open in 2009 and that AMPAS has acknowledged the film will be eligible for 2010 consideration.  I'm also told this sort of hiccup is not uncommon.  Steve Pond has a report up quoting AMPAS publicity on the matter.  So Berry is very much in the race this year.
EARLIER: A few hours ago, Kris mentioned the moves being made by Freestyle Releasing to launch an awards campaign for the long-delayed Halle Berry starrer "Frankie & Alice." The distributor plans to give the film an Oscar-qualifying release on December 17, explicitly stating its award-oriented motives in the press release.
So far, so good. But it seems to me there's a slight snag: "Frankie & Alice," although never formally released, actually qualified for the 2009 Oscars. As proved here, the film was on the Academy's official list of 274 films eligible for last year's awards: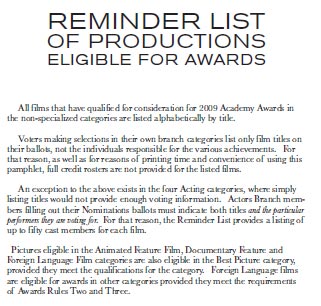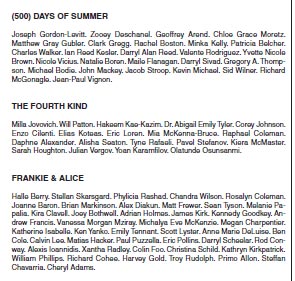 Now, unless there was a glitch on the Academy's list last year, that presumably means that "Frankie and Alice" had a qualifying run of some shape or form in 2009. That would render it ineligible for Oscar consideration in 2010, given that official Academy rules state the following:
Each picture may have only one Los Angeles County qualifying run. The earliest theatrical exhibition that meets such definition shall be designated the picture's qualifying run."
Either the Academy or Freestyle Releasing has made an error, then. Which is it? An actress's campaign hangs in the balance. We'll try to clear up the situation for you as soon as possible.