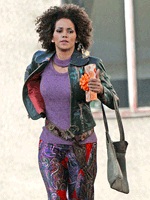 I feel like I've been hearing about Geoffrey Sax's "Frankie & Alice" for over a year now.  The film was on our early charts last year as one of a million possibilities, but it never nailed down distribution.  This year I just kind of forgot about it, but here's a press release landing this afternoon making sure we're aware that Freestyle Releasing will be opening the film on December 17 for an Academy qualifying run.
Now, this might mean there is awards potential for Halle Berry's performance in the true story of Frankie Murdoch, a woman suffering with multiple personality disorder in early 1970s Los Angeles (the release tells me).  Or it might mean, simply, being in that discussion is worth a few more dollars at the box office, which would be seen as a win for an indie.  I can't say.  I haven't seen the film.  And this is a fiercely competitive lead actress line-up as it is.  But hey, there's always room for one more…as long as you've got the goods.  (Of course, I wrote something similarly titled about Michelle Monaghan last year, so you never know.)
Chalk it up to one more contender (maybe) in an uncharacteristically strong field.  The film opens wide February 4, 2011.  It will also have a presence at AFI Fest in the form of a "Conversation on Acting."
Berry, by the way, served as producer on the film.  Her comments and more from the full press release below.  (FYI, the film screened for buyers and press at Cannes this year, which is where the Hollywood Reporter quote comes from):
Los Angeles, CA, October 25, 2010 – FRANKIE & ALICE, starring Academy Award ®-winning actress Halle Berry, will have an awards season qualifying run on December 17, 2010, in New York and Los Angeles before its regular theatrical release, which is set for February 4, 2011, it was announced today by Freestyle Releasing.
FRANKIE & ALICE, for which Berry also served as a producer, is a moving psychological drama based on the harrowing true story of Frankie Murdoch (Berry), a woman suffering with multiple personality disorder in early 1970s Los Angeles. Directed by Geoffrey Sax, and shot by by Newton Thomas Sigel (Valkyrie, X-Men, Confessions Of A Dangerous Mind, The Usual Suspects), the film also stars Stellan Skarsgård (upcoming The Girl With The Dragon Tattoo), Phylicia Rashad (upcoming For Colored Girls) and Chandra Wilson ("Grey's Anatomy").
In anticipation of the release of FRANKIE & ALICE, AFI Fest 2010 will feature Berry in a "Conversation on Acting with Halle Berry" on November 9th at 7pm at Grauman's Chinese Theatre in Hollywood. Tickets will be available at: http://www.afi.com/afifest.
"Bringing this story to the big screen has been a challenging, yet very satisfying, filmmaking experience," stated Berry. "Frankie's struggles with mental illness came at a time when the medical community and the public were still grappling with the veracity of multiple personality disorder, and I approached this role with feelings of humility, yet great responsibility."
Producer Vincent Cirrincione stated, "We are thrilled to have this film finished, completed and ready for release. FRANKIE & ALICE was a real labor of love for Halle and me, and we look forward to sharing this very personal and gripping true story with audiences."
Producer Hassain Zaidi stated, "Halle Berry was a real driving force to help bring this story to light, and gives one of the best performances of her career."
The Hollywood Reporter lauded the film, with praise for Berry, Skarsgård, Rashad and the director: "Berry is spellbinding as Frankie…Sax's astute guidance and the intelligent, nuanced performances of Berry and Skarsgard…the supporting performances are rock-solid, particularly Phylicia Rashad's steadfast portrayal of Frankie's supportive but enabling mother."
Berry won the Academy Award® for Best Actress in 2001's Monster's Ball, in addition to the SAG Award, National Board of Review and the Berlin Silver Bear Award. Berry also earned an Emmy, Golden Globe, SAG and NAACP Image Award for her performance in HBO's "Introducing Dorothy Dandridge," which she also produced. She made her feature film debut in Spike Lee's groundbreaking 1991 film, Jungle Fever, and has gone on to appear in projects as diverse as Bulworth, opposite Warren Beatty, Losing Isaiah, also starring Jessica Lange, the James Bond film Die Another Day, the boxoffice smash X-Men series, Swordfish with John Travolta and Hugh Jackman, and Things We Lost in The Fire, opposite Benicio Del Toro.
FRANKIE & ALICE was produced by Halle Berry, Vincent Cirrincione, Hassain Zaidi, and Simon DeKaric. The screenplay is by Cheryl Edwards and Marko King & Mary King & Jonathan Watters and Joe Shrapnel & Anna Waterhouse; story by Oscar Janiger & Philip Goldberg and Cheryl Edwards. Original music is by Andrew Lockington. Film editing is by David M. Richardson. Production design is by Linda Del Rosario and Richard Paris. Costume design is by Ruth E. Carter.
About Freestyle Releasing:
Freestyle Releasing is a full-service, theatrical motion picture distribution company that specializes in representing independent producers and production companies.