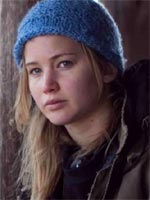 (A day later than usual — apologies. Friday night got in the way.)
• The Gotham Awards served up the first nominations of the season, with indie darling "Winter's Bone" sitting pretty.
• With "The Kids Are All Right" and "Another Year" prodding the discussion, this week's Long Shot column ruminated on a perennial gripe of Oscar pundits: category fraud.
• News of a high-profile Scorsese-DiCaprio retrospective launching an Oscar campaign for the film re-opened the debate over the merits of "Shutter Island."
• Our London Film Festival coverage continued; among other things, we reviewed five of the films in the running for the foreign-language Oscar…
• …and offered an against-the-grain take on likely awards-season heavyweight "The King's Speech."
• Tech Support refreshed the list of possible contenders in the Best Costume Design race.
• Sans guests this time, Anne and Kris took stock of a quieter week — and some lingering early possibilities — in this week's episode of Oscar Talk.
• In box-office news, "Jackass 3D" topped the chart, surely solidifying its place in The Ten.
• Life Without Oscar suggested some discerning awards alternatives for 1985 and 1986.
• Finally, ye asked and ye received: a space for readers to share their own nomination predictions.