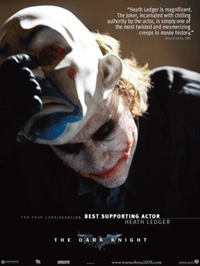 Catch up with the idea behind these weekend posts here.
Jeffrey Wells reminded me last weekend of Movieline's latest restoration effort, i.e. providing scans of back issues and therefore keeping the magazines of the 1990s available and adding a bit of history to the newly designed outlet.  It also reminded me of an idea I had at Variety three years ago when I was writing the trade's Oscar blog, Red Carpet District.
Something people don't know is that there is a small closet of a room (or at least it was a closet at the old digs across the street from the Los Angeles County Museum of Art, not sure about the new tower down the street) full of handsomely bound back issues of Variety.  You're talking decades of the print publication at your fingertips.
But while it's fun to go back and read old industry stories and news items, the best part is to grab a latter year volume, say something from December-January or February, and get a load of the for your consideration ads.
And the headline here is no joke, by the way.  There are lots of interesting eyebrow raisers throughout but it read to me as a cataloged celebration of the film business.  FYC ads make the film journalism industry go round.  Follow the money.  My idea was to have a series where we featured a handful of old FYCs on the blog each week.  Who doesn't want to see the old artwork for, say, Tim Burton's "Batman Returns" calling on recognition of Michelle Pfeiffer's performance?  God, I wish I could remember them all but there were some classics.
Alas, the idea was shot down by Peter Bart and Tim Gray.  They seemed to think it would appear that we were making fun of dubious campaigns, but that's not how I saw it.  Anyway, far be it from me to get in between Variety and the lovey-dovey relationship it wants to maintain with the studios.  But there were also plenty of opportunities to show stuff from "Dances with Wolves" or "Born in the Fourth of July," films legitimately in the hunt.  Maybe it's just me, but I like to look back on that stuff.
Anyway, maybe one day someone will see the value of that in the world of awards coverage.  And hopefully when they do, all of this will be a dot in my rear view.
Anyway, you know what to do.  Open thread.  Have at it and enjoy the weekend.
[Photo: Warner Bros. Pictures]