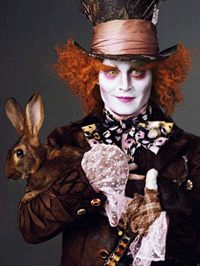 Glitz and glamor.  Period prestige.  Newbie talent and old favorites.  How is the race for Best Costume Design shaping up this year?
In my opinion, Jenny Beavan is leading the way at this point in time. Beavan earned six nominations in the 1980s and 1990s for her work on Merchant-Ivory films, winning for "A Room With a View." But after "Anna and the King" and "Gosford Park," she has been out of the running for almost a decade. That said, there must have been occasions (notably "Sherlock Holmes" last year) where she must have been very close. This year, she designed the threads for leading contender "The King's Speech." Recreating British royalty of the 1930s seems almost certain to result in Beavan's return to the final five.
Another eight-time nominee (albeit one with two wins) is Colleen Atwood. Atwood again teams up with director Tim Burton this year on "Alice in Wonderland." The work was crazy fantasy. The branch doesn't always go for that but they do frequently go for Atwood. That fact, combined with the film's massive box office haul, leads me to believe Ms. Atwood is looking at nod #9 this year.
The most frequent nominee of the past dozen years, alongside Atwood, has been the great Sandy Powell, who won last year for "The Young Victoria." Julie Taymor's "The Tempest" has not been well-received. But her "Titus" and "Across the Universe" managed nominations here (also for great designers in Milena Canonero and Albert Wolsky) as sole nominations for the films. Given the extent of Powell's talent and Taymor's history here, I think Powell is in serious contention, if hardly a sure bet, for another nomination.
The branch consistently nominates at least one (usually more) first-time nominees every year. This year, I think Mary Zophres – long-time collaborator of the Coen brothers – will manage her first nomination for "True Grit." The film is obviously period and I am starting to believe it will end up doing very well in the crafts categories, perhaps more so than any other Coen film.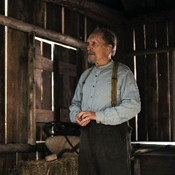 Julie Weiss is a long-time industry veteran with two nominations to her credit. This year, she designed the threads on "Get Low." Robert Duvall is a serious contender for a Best Actor nomination, and I could easily see Weiss coming along as the second-most likely nominee from this film, bringing us realistically into the South of the 1930s.
Weiss also designed Diane Lane's costumes on "Secretariat," with Michael T. Boyd serving as the overall costume designer.  The film didn't set the world on fire but the handsome costumes are the sort that the branch often embraces.  Boyd has never been nominated before but that is hardly determinative of whether the film will be recognized here. (I must also add that I am curious if a nomination would be shared between Weiss and Boyd, or if Boyd would take it solo.)
Amy Wescott has a very unique opportunity with "Black Swan." While the film is fundamentally contemporary, the subject matter will ensure that the sheer number – and variety – of costumes will be high. I remember many people were surprised when "The Devil Wears Prada" managed a nomination here four years ago (my first year writing this column, actually). While the film itself seems to be divisive in the extreme, I certainly expect Natalie Portman to be in the running, which could result in attention being brought to other aspects of the film.
Janty Yates is still awaiting her second nomination after winning this category a decade ago for "Gladiator." Her great collaborations with Ridley Scott have been numerous but "Robin Hood" is perhaps their most Oscar-friendly effort together since 2000. Yates's problem, however, seems to be that she has been concentrating her efforts on forgettable summer fare. Is this really a departure from that?
In a similar boat is Gabriella Pescucci for "Agora." Pescucci has managed a nomination in the 1980s, 1990s and 2000s. So she needs a fourth nomination sometime this decade! The nature of the work is also the exact sort of period and glamor this branch usually loves. This title, however, seems already forgotten.
I'll end by mentioning an eccentric possibility that could very well happen – Louise Stjernsward for "Made in Dagenham." The costumes seem fun and very memorable. With Miranda Richardson and Sally Hawkins likely contenders, they'll be hard not to notice. And while such "out there" nominations are not typical in this category, they are by no means unprecedented. So a nomination for Stjernsward could very well happen.
So that's the way I see the race today. We'll see how the next couple of months treat this category. Next week, we move from the glitz and glamor of costumes to the dark editing rooms of the film editing category.
[Photos: Walt Disney Pictures, Sony Pictures Classics]