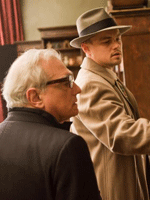 People have scoffed at the idea of a Martin Scorsese's "Shutter Island" campaign for months now.  The film didn't hit with the critics, therefore it must be an also ran, right?  The thing is, it made decent bank and is packed with elements I know for a fact are well-respected from the industry, whether it's Thelma Schoonmaker's typically expert film editing, Robert Richardson's throwback lensing, Dante Ferretti's creepy production design or, indeed, Leonardo DiCaprio's fantastic lead performance.
All of that goodwill can build momentum in a year of 10 Best Picture nominees, and let's face it, every DiCaprio/Scorsese collaboration has been nominated in the top category, in years of five, no less.  With Halloween right around the corner, now is the perfect time for Paramount Pictures to remind everyone of the film.  The studio is therefore kicking off the season's festivities with a two-day American Cinemateque retrospective on their eight-year partnership.
The dates are November 13 and 14 and the event will take place at the historic Egyptian Theatre in Hollywood.  DiCaprio will attend in person on the 14th and Scorsese will join him live via satellite from London.  Hopefully all the buzz gives naysayers a reason to take another look at the film.  I still think it's one of the most misunderstood films of the year.
[Photo: Paramount Pictures]