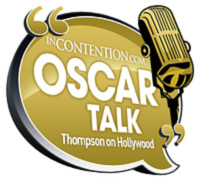 Welcome to Oscar Talk.
In case you're new to the site and/or the podcast, Oscar Talk is a weekly kudocast, your one-stop awards chat shop between yours truly and Anne Thompson of Thompson on Hollywood. The podcast is weekly, every Friday throughout the season, charting the ups and downs of contenders along the way. Plenty of things change en route to Oscar's stage and we're here to address it all as it unfolds.
After a week with four on the mic, it's back to just Anne and myself as we mull over something of a slow news week. But there's always some grist for the mill here and there, catch-up screenings, parties, etc., so let's see what's on the docket today…
• Quickly at the top, Anne is reminded of films that have kind of come and gone and rank a bit low on the totem pole, therefore will have trouble getting back into the conversation (which leads us to a reader question about same).
• Speaking of which, Michael Douglas's lead actor campaign for "Solitary Man" and supporting campaign for "Wall Street: Money Never Sleeps" have each received their fair share of ink this week. But the opportunism is what sticks out more than anything. We discuss.
• The animated feature race looks to boast just three nominations this year. Two seem sealed up, but what of the third. We talk the possibilities, as well as a recent "How to Train Your Dragon" DVD release party.
• Speaking of animation (kind of), there is buzz afoot that Disney is launching a serious Best Picture campaign behind "Alice in Wonderland." It made the dough so it deserves the effort, but we both think it's a bit futile.
• Having caught up with Doug Liman's "Fair Game" earlier this week, I'm able to join Anne in conversation on the film's awards prospects. For my money, Sean Penn is best in show, but the film doesn't feel like a contender so much as a solid effort that deserves good business.
• And we close with this week's batch of reader questions, addressing topics ranging from lone director potential to the future of "the 10."
Have a listen to the new podcast below (with Jónsi's "Sticks & Stones" from "How to Train Your Dragon" leading the way). If the file cuts off for you at any time, remember you can click the download link to save it directly or play from the source. And as always, remember to subscribe to Oscar Talk via iTunes here.
[display_podcast]