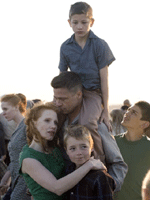 Oh the drama of Terrence Malick's "The Tree of Life." At some point I just shut down and dutifully conveyed all of the pointless back-and-forth nuggets, because really, this kind of hype and spectatorship is just unhealthy for a film sight-unseen.
But now you can mark your calendars, because according to a Box Office Mojo scheduling update, Fox Searchlight (which recently acquired the film) will be releasing the film on May 27, 2011.  If you're keeping score at home, that's just five days after the 2011 Cannes International Film Festival closes up shop, so I suppose it's fair to still hold out hope for a bow at that festival.
However, there is still the scuttlebutt regarding Malick's history with the Berlinale, so it could pop up there first.  The film was slated by EuropaCorp for a February bow in France, but that seems unlikely to me now.
Wherever the film decides to bow, you can bet In Contention will be there int he form of lucky man Guy Lodge, as he covers both fests for us here.  And in any case, the date is set.  Now, show us how hardcore you really are.  Go line up at your multiplex NOW.
[Photo: Fox Searchlight Pictures]