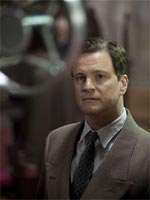 Unlike, say, the Venice fest – where the jury's failure to reward any of the (lousy) Italian films in competition is cause for a media strop — the London Film Festival has often seemed somewhat embarrassed by the homegrown portion of its programme, perhaps granting a big red-carpet date to the odd bit of tony Oscar bait while shoving newer and/or independent British filmmakers into shadowy side slots.
This year, however, the festival appears to be wearing its flag quite contentedly. This week's lavish gala screenings have included such big-draw Britpics as "Another Year" and "The King's Speech" – but rather less predictably, Peter Mullan's hard bit of Scottish urban realism "Neds" was afforded similar treatment, while tonight's hot ticket is local TV comedian Richard Ayoade's Toronto-acclaimed (and Weinstein-acquired) debut "Submarine." With Joanna Hogg's bare-bones sophomore feature "Archipelago" also premiering tonight – and unexpectedly shortlisted for the fest's Best Film award – programmers seem bent on drawing attention to the multitude of approaches in contemporary UK cinema.
With that said, judging from the plentiful laughter and keen applause that greeted yesterday's press screening of "The King's Speech" (**), the old Britfilm model is still good enough for most viewers. I wish I could join them, but Tom Hooper's safe, static and excessively manicured study of George VI's ascendancy to the throne – a trajectory braided with the overcoming of a critical speech impediment – is the kind of heritage picture that receives maximum reward for taking the minimum number of chances.
Tailored largely for the international audience for whom the internal politics of the Royal Family seem never to lose their mystique or fascination, David Seidler's original script at least deserves credit for resisting the temptation to self-elevate: the titular, and climactic, speech may be read over a montage of rapt common-or-garden Britons tremulously awaiting the hardships of WWII, but the film rarely pretends to be about anything much more far-reaching than one man's personal struggle with a manageable disability. But history on film can be intimate without seeming minor, and "The King's Speech," with its cosily unbending characterization and emphasis on the physical properties of the spoken word, only manages the first half of that equation.
Essentially an interior-based two-hander between Colin Firth's stammering monarch-to-be and Geoffrey Rush's gently dogged speech therapist – if I came to the film cold, I would immediately, but incorrectly, peg it as an adaptation of a stage work – the film winds up following something of a romantic (or bromantic, if you will) comedy structure, as the two men warily suss each other out, fall in love, fight, apologize, and fall in love again. It's a thin, not unappealing narrative, but it's more hampered than helped by Hooper's fussy attempts to render the material cinematic with self-aware shot construction and phonily ennobling musical selections.
If Seidler doesn't take quite the same salaciously speculative stance on the private lives of its principals that a writer like Peter Morgan might, he weaves into the film a mild-mannered thread of irony that the cast seize upon to enliven otherwise bland characters – rather too enthusiastically in the case of Helena Bonham-Carter's tetchily mannered Queen Mother. Better news is that, gifted with the film's most breathable part, Rush is uncharacteristically restrained and engaging, while the Firth, his likable hesitancy as an actor making him the ideal casting choice here, admirably retains the character's prickly wit even when fully thawed. The Academy could save him a season-long wait (not to mention a small fortune in dry-cleaning bills) by posting him his inevitable statuette now, but while it's an expert performance, it's also a palpable one; like the lacquered but, well, over-enunciated film around him, he knows precisely where the audience is sitting.
I'm as guilty as anyone of stuffing corseted fare like "The King's Speech" onto the "heritage cinema" shelf, but the growing library of working-class memory pieces like Peter Mullan's electrifyingly messy and feeling-flooded period teen drama "Neds" (***1/2) calls for a re-evaluation of the term: like the best work of Ken Loach, Shane Meadows and, most recently, Andrea Arnold, Mullan's film taps into a fierce cross-class yearning more integral to the heritage of many a British viewer than most costume dramas given the tag.
Which is a lumpy way of saying that "Neds" (the title is a familiar Scottish slang acronym for "Non-Educated Delinquents") feels nervily alive, as opposed to reverentially embalmed, in its documentation of a past milieu: in this case, the proudly frayed and gang-patrolled Glasgow council estates of the late 1970s, wherein our teenaged protagonist John McGill (newcomer Conor McCarron, alternately cocksure and wincingly vulnerable) is repeatedly brought to the possibility of self-actualization before sabotaging his own escape.
As the film's opening reels juxtapose John's grimly broken home life against his precocious academic promise at a rough government school, we seem headed down a familiar against-all-odds path, but Mullan's "personal but not autobiographical" script makes excitingly wayward decisions, as John's needy absorption of gang culture steer the character increasingly far from the plucky hero the audience roots for him to be, the possibility of rehabilitation an ever-growing question mark.
Mullan, meanwhile, undercuts the threat of miserablist nostalgia (complete with mandatory T-Rex soundtrack) with a genuinely unsettling visual sense that sporadically explodes into full-blown surrealist metaphor – director seemingly as enervated and overwhelmed by his reality as protagonist. Not every flourish lands just right on the canvas – a hallucinatory vision of a New Seekers-singing Christ seems meretriciously eccentric rather than organically born of the character's imagination – but Mullan remains a relentlessly probing filmmaker even on his off beats, and an assured leader of the film's mighty ensemble (in which he appears as John's knowingly pitiful alcoholic father). Ribald, risky and scarred with sorrow, "Neds" is the most invigorating British work this year's festival has yet turned up – whatever the red-carpet vultures might tell you.