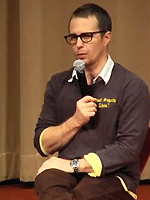 Backstage's Jenelle Riley recently moderated a post-screening Q&A with "Conviction" star Sam Rockwell and a few interesting nuggets surfaced during the chat.
First and foremost, I was always under the impression that Rockwell was the first choice for the role of Kenny Waters in the film.  But as he reveals here, Phillip Seymour Hoffman and John C. Reilly dropped out of the part along the way.  It leaves you wondering what the film might have been like.  I think either actor would have been intriguing but Rockwell brings a real charm to the character that might have been lacking otherwise.
But most crushing, I'd say, is the fact that 16 hours of crucial footage was apparently destroyed by an airport x-ray.  Can you imagine?  And it sounds like it was intense material as Rockwell says it was probably the hardest thing he's ever done to go back and res-hoot all of that stuff.
It's worth a look and listen.  Head on over to Backstage to watch or check out the embed after the jump.