I know the film has a lot of devotees on this site — I'm not wholly with them, though for the second year running, I do think Tilda Swinton merits a lot more Best Actress consideration than she's getting — so you may be pleased to know that florid Italian melodrama "I Am Love" has at least (however indirectly) taken one bit of minor silverware.
I wasn't aware that the inaugural Screen International UK Marketing & Distribution Awards took place two weeks ago, but so they did, with "I Am Love" (and marketing team AllCity) deservedly scooping Poster of the Year honors for the arresting hot-pink design featured to the right (and in full after the cut). As it happens, we singled out the film's poster portfolio for praise earlier this year; nice to know we weren't alone in our admiration. Hey, it's something.
Among the posters it beat is another of my favorite 2010 one-sheets recently featured on these pages: the witty crow-and-bomb design for "Four Lions." Chris Morris's controversial (and, yes, funny) UK terrorism satire did, however, take the award for Trailer of the Year. You can check that out, too, after the cut.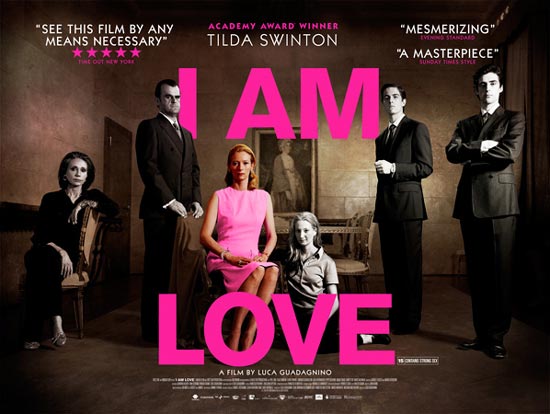 [Image: Metrodome Distribution]