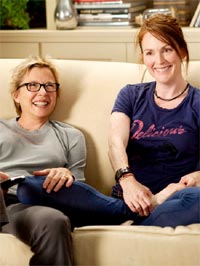 Wild-eyed, table-banging outbursts — sometimes of enthusiasm, more often of outrage — are an essential part of the floor show at any Oscar viewing party, but I've rarely seen one more unhinged than a friend's reaction to Angelina Jolie's (widely expected) Best Supporting Actress victory at the 1999 ceremony.
"Who the hell was she supporting?" she yelled, red wine slopping out of her glass as she pointed an accusatory finger at the TV screen. "The woman only went and swallowed the entire film without so much as chewing once, all but elbowed Winona out of every shot, and she's rewarded for supporting her?" She was practically spitting now, so blind with fury she hadn't even noticed the raven-haired Miss Jolie snogging her brother. "If that's her idea of support, what happens when she's against you?"
I should perhaps explain that my friend's love for all things Winona Ryder ran deep, and not a little frightening, in those days; the Academy's heartless decision not to nominate Ryder for Best Actress that year already meant she was watching the ceremony under duress. So it probably wasn't the best time to explain that, well, Jolie did have the secondary role in "Girl, Interrupted" and that, unfair world that this is, there was still no law preventing rising young actors from being much better than their first-billed co-stars. So we let her rant, at least until Phil Collins started singing and she had something new to complain about.
Still, while it was misplaced in that instance, my friend's very literal definition of what constitutes a supporting performance stuck with me — and I've found my mind drifting to it repeatedly over the last few weeks, as a number of this year's likeliest acting nominees have prompted the annual "category fraud" debate even earlier than usual.
Is Focus right to campaign both Annette Bening and Julianne Moore as leads in "The Kids Are All Right," or would it be more appropriate (and tactical) for one to drop to supporting? Can Lesley Manville be declared a lead in "Another Year" when her character flits around two more constant — but also more passive — presences in the film? Will "True Grit" newcomer Hailee Steinfeld be the victim of the unwritten campaigning rule stating that minors are, by definition, supporting players — whether they're carrying a film on their shoulders or not?
Some of these questions are more easily answered than others. They do, however, prompt some thought as to what separates — in principle, if not always in campaign practice — a leading role from a supporting one. Some like to measure it in terms of screen time, as if performances are quantifiable commodities; a mistake, as it neglects such key considerations as the purpose and influence of the character, their impact on the narrative and the surrounding ensemble, the sheer brute force of the performance itself.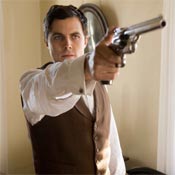 A screen minute count would classify Anthony Hopkins as a supporting player in "The Silence of the Lambs," but the film is determined by his presence — or the memory thereof — even in long offscreen stretches. We know the Academy doesn't buy the screen time theory, which is why Denzel Washington gets classified as lead for bringing the danger to "Training Day" while Ethan Hawke gets supporting recognition for anchoring the film from first scener to last. Julianne Moore has the longest segment of the three female leads in "The Hours," yet was the only one campaigned in support — for reasons of in-film forcefulness as well as inter-film tact. (She had a lead bid for "Far From Heaven" that year, in case you forgot.) Is a true supporting performance simply one that is shorter than those around it, or is it one that bolsters and abets a co-star's?
The swinging blogger reactions to "The Kids Are All Right" — at least, among those pundits who struggle with the fundamental concept of a film having two leads, which Lisa Cholodenko's film does — illustrates a range of recurring perspectives on the matter. Those suggesting Moore move to support, as many did earlier this year, risk reductively branding the flightier character the flimsier one. Recently, a counter-argument that Bening should be the one demoted hews closer to screenwriting-manual logic: Bening's character's decisions don't imperil as many characters as Moore's do, ergo, she is the less integral character. They're both wrong. The women's performances amount to a pas de deux marking out the shifting distribution of power in any marriage; to suggest that one is subsidiary is to miss the message of the entire film.
Of course, many fans and pundits aren't thinking in such narrative-related terms — they just want to see the easiest path cleared for their favorite names to be slotted into the race. I've often read commenters remark that they don't care about so-called "category fraud" if it help [insert name here] get the nomination, but they should: because for every borderline-lead star who takes the path of least resistance to a spot on the supporting ballot, there's an outstanding character actor being edged out of the race because their genuinely supporting part seems less showy by comparison.
The Academy may intervene sometimes, category-correcting disingenuous campaigns for the likes of Kate Winslet and Keisha Castle-Hughes, but more often they go with the flow — which is how Jennifer Hudson scoops an easy Oscar for supporting precisely nobody in "Dreamgirls," and how Casey Affleck gets a secondary nod for "The Assassination of Jesse James by the Coward Robert Ford" despite the film's very title billing him as an equal (and more active) partner.
I'm using recent examples for the sake of immediacy, but it's not a new phenomenon: indeed, in 1936, the very first year the supporting categories were introduced, 20th Century Fox were accused of foul play for promoting Stuart Erwin, the lightweight lead of a musical comedy titled "Pigskin Parade," for Best Supporting Actor. The ploy worked, Erwin was nominated, and the ignoble Oscar tradition of "category fraud" was born.
Of course, you rarely hear complaints running in the other direction: the Anthony Hopkins example applies once more, while few take issue with Patricia Neal's Best Actress win for "Hud," in a searing 20-minute part that many (including that year's Golden Globe voters) would deem supporting. That's not exactly surprising: with great supporting turns facing enough opposition from slumming leads to get recognition in their own category, one is inclined to cheer on the ones that luck their way into a place at the adults' table.
So, as we head into the season, think where a nomination for the performance you're cheering on would be most meaningful, as opposed simply to where it'll find the softest place to fall. If Lesley Manville is deemed as a supporting actress for being the film-jolting center of conflict (if not the most constant presence) in "Another Year," where does that leave a more minutely scene-stealing co-star like the wonderful Karina Fernandez? If you believe Annette Bening and Julianne Moore to be on separate planes of importance in their film, does that mean a third class of acting category should be introduced for the likes of Mia Wasikowska?
I'm not saying the issue can't be a gray and even confusing one, but sometimes applying my excitable friend's questioning system of who or what is being led or supported by the performance in question can reap unexpectedly clear answers. Sometimes not. But at least this year I can assure her that in "Black Swan," Winona Ryder is definitely a supporting actress. The more things change, eh?
[Photos: Focus Features, Warner Bros. Pictures, Sony Pictures Classics]