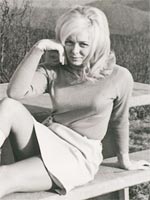 Amid a fairly robust non-fiction slate in this year's London Film Festival programme, there appears to be an informal sidebar of documentaries about the process of, well, documenting — whether via media avenues of art, film or journalism.
That's not to say the films in question are particularly meta. The ones grouped here are all pretty straightforward studies of complicated (or even downright hinky) creative processes, none more so than "Smash His Camera" (***), Leon Gast's slight but enjoyable snapshot of famed US paparazzo Ron Galella, which pokes gentle fun at its gnomish subject while pointedly mourning the gradual draining of artistry from the sport of celebrity shutterbugging.
"Smash His Camera" has already been released in the States, so I won't dwell too long on it here, other than to say it made me even more aware than intended of my status as a viewer – largely I couldn't block out the running commentary from the seat behind me, a ceaseless Noo Joisey-accented stream of observations like, "Now she was the real deal," and "Whatever happened to that guy?" Only my half-British reserve prevented me turning round and politely telling him to cram it, so I was glad of my restraint when the house lights came up to reveal that the offender was… Ron Galella himself. Now that was meta.
Galella's nostalgia for the star-kissed tabloid fixtures of yore segues neatly into a discussion of Errol Morris's rollicking docu-satire "Tabloid" (***1/2), which crosses the Atlantic to jab a finger in the chest of the UK's notoriously seamy red-top rags and details the tipping point at which tabloid journalism became less about following celebrities than creating them.
The limited-edition celebrity in question is Joyce McKinney, a broad, bolshy and fabulously bonkers former Miss Wyoming who was briefly the subject of British media fascination when, in 1977, she kidnapped her Mormon missionary ex-boyfriend to either – depending on whose account you believe – free and de-brainwash him from a cult that sabotaged their relationship, or keep him as unwilling sex slave in the bucolic English countryside.
Either story is pretty darn good, and Morris revels in the salaciousness both of McKinney's own exploits and the lousy journalism they inspired across the past 30 years, down to the woman's recent, differently motived return to the headlines – the documentarian's equivalent of an "and that's not all!" infomercial pitch. It's perhaps the most jazzily entertaining film Morris has yet made, though it's far from his most penetrating or insightful: with McKinney a willing (and highly garrulous) presence throughout, the filmmaker condescends to her rather too often for my liking, packaging and exclamation-marking her story as brazenly as the journalists her purports to mock, and rather more cuttingly at that – the onscreen flashing of the word "minibar" as the one-time farmgirl enthuses over hotel-room comforts crosses the line into cruel classism.
Then again, we're never quite certain just how many bone-dry layers of irony Morris is operating on, which is what keeps the film so shiftily compelling. And the temptation to make McKinney a figure of fun is understandable, given how much fun she is herself. As an interviewee, she's something of a star: good-naturedly eccentric and unexpectedly witty ("Well, that's like pushing a marshmallow into a parking meter," she says, getting the film's biggest laugh, when asked if she believes in the possibility of female-on-male rape). Even when his perspective rankles, Morris remains a master of story presentation; in "Tabloid," he's found a subject who matches that description perhaps more than she realizes.
This kind of ethical tenuousness isn't on the cards in Lucy Walker's worthily feelgood giving-back doc "Waste Land" (***) — which unsurprisingly won an Audience Award at Sundance in January — though it might be a more interesting film if it were. Walker's film centers on something of a charity project by internationally acclaimed Brazilian artist Vik Muniz, famed for his use of recycled materials in his artworks. Electing to work with the poverty-stricken trash pickers at Rio's (and the world's) largest refuse dump, Muniz sets about creating vast portraits of the individuals using the trash on which they stand, auctioning off the results for their financial betterment. Self-realization is also to be found, as the collaboration inspires many of the workers to seek new, more fulfilling, careers.
Combining humanitarian and environmental agendas, then, "Waste Land"'s liberal credentials couldn't be any more immaculate — hell, granola mascot Moby even contributed a score. But as unavoidably heartwarming as it is to see these lives take flight, there's an intriguing seam of tension between Muniz's good intentions and his creative ego — there's a hint of agitation early on among the trash pickers who sense, not inaccurately, some class tourism afoot — that the film doesn't pick at as thoughtfully as it might. Still, there's pleasure in observing his process, and the featured workers are a charismatic enough gang to see it through. An Oscar nod is entirely imaginable.
The same can't be said for Argentinian doc "The Peddler" (***1/2), but the team of Eduardo de la Serna, Lucas Marcheggiano and Adriana Yurcovich's valentine to literally independent cinema stands as the most uncompromised ray of sunshine at the festival thus far. Its easy strolling pace balancing a quick wit, the film follows the travails of self-professed (and self-taught) auteur Daniel Burmeister, an affable 60-something tryer who spends his days travelling across rural Argentina, making amateur fiction features in the villages he passes through along the way, inviting willing townsfolk to act as his cast and crew. Unlike what Vik Muniz gets up to in "Waste Land," this is no aid project: Burmeister believes his films — which number more than 60, repeatedly recycling his same rickety comedy and melodrama scripts — to be his own viable artworks, even if they never screen outside the town halls of the villages where they were shot.
There's something rather heroic about Burmeister's cinematic delusions, largely because they're not delusions at all: after all, however wonky the results, he's constantly making and exhibiting films. The directors commendably treat him as the careerist he is, with the film methodically tracking a single one of his shoots from arrival to casting to screening to packing-up. The participating villagers are taken just as seriously, though there's plenty of room for gentle observational humor  as they react with initial befuddlement and increasingly feverish excitement to this star-making stranger in their midst. The message of this clear-eyed charmer isn't as patronizing as "anyone can make a movie"; rather, it's that everyone should.
[Photo: Moxie Pictures]