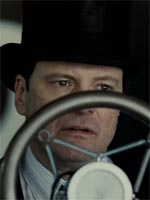 Admittedly, this isn't much of a story, but following last week's furore over the NC-17 certificate handed to the starkly adult marital drama "Blue Valentine," it's amusing to see a rather more milquetoast Oscar hopeful having its own trouble with the ratings board.
London's Evening Standard paper reports that "The King's Speech," already rated R by the MPAA, has been given a 15 rating (permitting no viewers under that age) by the British censors — not a severe rating, but more restrictive than one might expect for a polite period biopic revolving around speech therapy.
The reason for the adult rating is the same on both sides of the Atlantic: a short comic scene where Colin Firth's stuttering King George VI is required to say "fuck" 42 times in quick succession as part of a therapeutic exercise. To be frank, 14 year-olds were unlikely to be queueing around the block to see "The King's Speech" in the first place, but that's not really the point: R or 15 ratings could wrongfoot mild-mannered mature viewers who otherwise sit squarely in the film's sights.
But hey, "Atonement" received the same treatment, having built an entire plot on a single four-letter word even more contentious than "fuck" (if you need reminding, it began with a "c"), yet still managed tidy bluehair business and a wad of Oscar nods. It's only words, as the Bee Gees once told us. All the same, it'd be fun to watch Harvey Weinstein make a cause célèbre out of this one too. The mileage to be got out of Firth's "I have a voice!" clip is surely limitless.
[Photo: The Weinstein Company]