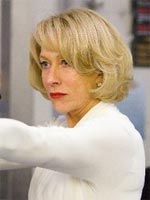 Amid the club of stars surfacing in two or more 2010 releases — Leonardo DiCaprio, Annette Bening, Chloe Moretz, and so on — has anyone been more ineffectually ubiquitous than Helen Mirren? The 65 year-old Brit has been working steadily since her Oscar win nearly four years ago, but apparently cracked the secret of human cloning this year, turning up in no fewer than six titles. (Seven if you count "The Last Station," which most civilians only laid eyes on in 2010.)
As much as this looks like a banner year for the actress on paper, however, her strike rate has been bewilderingly low. Brothel-madam biopic "Love Ranch," directed by her husband Taylor Hackford, flunked with critics and audiences back in June, while "The Tempest," her would-be highbrow awards bid, met with widespread scorn at the Venice and New York festivals.
Two other adult-oriented dramas were left in limbo at Toronto, with John Madden's "The Debt" booted to 2011, while "Brighton Rock" — for which Mirren ceded the critical spotlight to newcomer Andrea Riseborough — still languishes without a US distributor.
In other words, depending on your affection for a certain animated owl flick currently in theaters, the high point of Helen Mirren's 2010 looks to be Robert Schwentke's unevenly reviewed comic book movie "Red." Who saw that coming? And at the start of the year, who would have guessed that with five sizable performances in the wings, the woman so revered by her peers that she even cracked a nod for shrieky scenery-chewing in "The Last Station" would have Oscar buzz for precisely none of them?
Of course, she's not the first fine actor to have one of those years that just doesn't come together. Everyone had 2008 pegged as The Year of Viggo Mortensen… until it wasn't. Back in 2001, Cate Blanchett was in a million places at once, yet still never quite caught fire. A year like this still amounts to great thespian exercise for a pro like Mirren, but at this elevated stage in her career, she can afford to be choosier.
That would also appear to be the message behind David Thomson's recent celebration of the actress for The Guardian, in which he effuses over both her screen presence and her work ethic — but suggests that she could challenge herself more, perhaps starting with another regendered Shakespeare lead:
[I]t's worth thinking of stern challenges. A Queen Lear would not be insane but Mirren would have to go crazy for it. She could play Mary Tyrone in Long Day's Journey Into Night, or Pushkin's Queen of Spades – the role Edith Evans once played. We should not forget that the affable and professional Helen Mirren is of Russian blood, and may nurse a wintry scorn for restraint, mercy and other white lies. Surely she's ready for a complete breakdown – for herself or for everyone else – in a movie.
Beyond her variously postponed efforts from Toronto, we'll next see Mirren reteamed with her "Tempest" co-star Russell Brand, filling John Gielgud's Oscar-winning shoes in a remake of the 1981 Dudley Moore comedy "Arthur." Something tells me that's not what Thomson has in mind.
[Photo: Summit Entertainment]