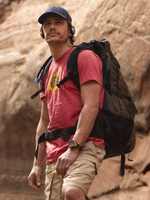 Odd, I was just having a Twitter discussion about who might receive this honor from the Santa Barbara International Film Festival, and my honest guess was James Franco.  Lo and behold, he's been tapped for the honor.
The press release, in part:
The Santa Barbara International Film Festival is proud to present James Franco with the Outstanding Performance of the Year Award on Saturday, January 29, 2011.  He will be honored for his compelling performance in Danny Boyle's 127 Hours at the 26th edition of the Fest which runs January 27-February 6, 2011…

"A truly exceptional actor who embraces the character and lives the story to tell it," comments [festival executive director Roger] Durling, "James Franco eases onto the screen, seducing the audience no matter if he is the hero, the villain or the victim."…

Franco will join an illustrious group of previous Outstanding Performance Award recipients, including Colin Firth (2010), Penelope Cruz (2009), Angelina Jolie (2008), Helen Mirren (2007), Heath Ledger (2006), Kate Winslet (2005) and Charlize Theron (2004).
More SBIFF awards announcements as they come.