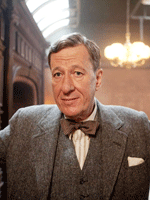 Also by request, I've updated this week's sidebar poll.  It's October and I know a number of you haven't been able to see most of the contenders, but it's good to get an early gauge of what the readership thinks will be nominated come January.  And it dovetails nicely with our new Calling All Predictions feature.
In the left sidebar I have listed what I think are the 27 films with a legitimate shot at a Best Picture nomination this year.  Granted, things can change.  Something could jump up and surprise.  And we all know there are films that will fall out of contention.  So perhaps we'll update with another poll later in the season.  But for now, I'd say 27 is a beefy enough number, and in case someone wants to go out onto a limb, the requisite "other" selection has been included.  Just be sure to let us know in the comments section here what you're thinking.
So have at it.  You can select no more than 10 so just crank out your predictions and we'll see how right (and wrong) you all are in a few months time.