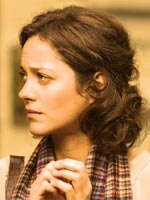 Okay, so my weekend plans to catch up on my LFF review backlog didn't entirely pan out — though the schedulers have, at least, kindly slowed the snowball effect by screening a number of films today that I had already seen. Strange as it sounds, given that it's been on the festival track for five months now, Mike Leigh's "Another Year" (reviewed in Cannes) finally premiered in its home country this evening, while Julian Schnabel's "Miral" continued to dismay critics at this morning's press screening — as I treated myself to a smug lie-in.
The weekend, however, was one of multiple festival treats for me, including my first dip into this year's particularly enticing Treasures From the Archives sidebar, featuring a broad array of immaculately restored classics and curios.
Joshua Logan's "Picnic," a widely forgotten Best Picture nominee from 1955, was an unexpected candidate for this treatment, but the gleaming new print of this creaky but affecting slice of small-town Americana repaid the archivists' gamble — the film's ambitious narrative-hopscotch structure remains fresh, the scattergun ensemble acting less so, but the real purpose of the outing was seeing master DP James Wong Howe's luscious color lensing primped, polished and projected on London's classiest cinema screen.
If my Saturday viewing started with a backwards glance, however, it finished with something that couldn't feel much more new-generation. As cool, steady and bracing as the gray Oregon rain that drips through nearly every scene of the film, writer-director Aaron Katz's third feature "Cold Weather" (***1/2) disarmingly continues the shuffling sense of 20-something statelessness examined in his earlier films "Dance Party, USA" and "Quiet City," but makes some adventurous conceptual tweaks to the formula. Most notable among these is the gently playful shoehorning of genre elements into a whispery character study: 40-odd minutes in, the film casually yawns, stretches and takes up an shaggy-dog mystery plot born of the director's love for Arthur Conan Doyle, Raymond Chandler and E.W. Hornung.
Our slacker Sherlock here is Doug (Cris Lankenau), a gangly college dropout who, lost and lovelorn after a recent breakup, moves from Chicago to a small Portland apartment, shared with his sensible sister Gail (Trieste Kelly Dunn, the standout of an appealing ensemble). Putting on hold his dream of a career in forensic science, he takes a menial job at a local ice factory, where he strikes up a friendship with co-worker (and moonlighting DJ) Carlos (Raúl Castillo). Just as Doug is settling happily enough into his modest new life, things are disrupted when his ex reappears on the scene — only to vanish just as quickly. Cue much sweetly inept — albeit drolly successful — detective work, but Katz smartly dangles this caper only as a decoy to unpick a delicate, mutually dependent sibling relationship, as Doug and Gail face up to the failings that brought them to the compromised life they lead together.
Some critics have backhandedly praised the film as "mumblecore with a plot," but Katz has long been a more cinematic stylist and storyteller than many of the dialogue-smitten young auteurs who get branded with the "m"-word — like "Quiet City," "Cold Weather" is a miniature triumph of atmospherics and visual composition, with Andrew Reed's crisp, minty cinematography equating the fug of working-class Portland with the fog of Conan Doyle's London. Katz's regular composer Keegan DeWitt, meanwhile, has rustled up the year's most bewitching score, elegantly pitting brisk, wintry chimes against warmer wood notes. Amid the stylistic diversions and knotty plotting, however, Katz's wonky wit happily hasn't gone astray: "Fucking Sherlock Holmes is the pimp," Carlos observes sagely after delving into Doug's personal library. Damn straight. (Look out for my interview with Katz later this week.)
I already stated my admiration for Olivier Assayas's rangy, rumbustious and generally tremendous biopic "Carlos" (***1/2) on Friday's episode of Oscar Talk, and with the film already out in US theaters, a detailed review won't be forthcoming. But some of you have asked me to expand slightly on my feelings about the film, so I should at least take a moment to celebrate not just the sheer volume of Assayas's achievement (I am, of course, referring to the film's full-fat, 325-minute cut) but its brash bending of multiple unwritten rules of the film biopic. The dense, unselective assembly of information in "Carlos," coupled with the surprisingly linear presentation by Assayas and co-writer Dan Franck, should make for something of a hard-graft slog, but there's so much business in the film to attend to that we're too preoccupied with chasing it to check the clock.
Assayas's trust in his audience is massive, but then, so is his story: spanning four decades, the film takes Ilich Ramirez Sanchez (better known to us all as Carlos the Jackal) from semi-idealistic revolutionary to cause-deficient rock-star terrorist to sold-out fugitive dependent on the mercy of corrupt governments, riskily fusing its lavishly researched history with perverse requiem of sorts for the principles of terrorism. Edgar Ramirez's riveting quick-change performance, capturing the character's curiously small petulance as well as his extravagant sense of self-mythology, is something to behold, but he and his director never presume to know exactly what made the man tick: their Carlos is a man who spins ever more unreachably away from us the further he loses his own grip on himself.
Assayas drenches the proceedings in period styling that resists advertising its authenticity too loudly; the sweatily textured costume design (the film might have been retitled "Blood and Polyester") is of particular note. The film starts to bag up slightly in its third act, as lengthy, tensely patient set pieces give way to choppier, fade-in-fade-out leaps across the years, but the highest compliment I can pay this vast storytelling accomplishment — faint praise that it may be when discussing most other films — is that it never so much as flirts with boredom; a 165-minute edit (that's 50% off, folks) may be doing the rounds, but I'll be damned if I know what to cut.
We close this review set with another French filmmaker with his eye off the timer, albeit one with rather less grandiose ambitions. Where his last film, the popular Harlan Coben adaptation "Tell No One," moved at a tight clip, actor-turned-director Guillaume Canet's loose, genial ensemble dramedy "Little White Lies" (***) allows itself 154 minutes to chart the criss-crossing personal crises of a gaggle of bourgeois Parisian friends who take off on a beachside vacation together after one of their number suffers a motorcycle accident that places him in intensive care. (The ethics of this decision are debated, but only briefly and half-heartedly: they are French, after all, so missing a holiday would effectively amount to a crime against nature.) There, assorted tensions and rivalries surface, some less immediately solvable (a married man confesses to an increasingly sexual guy-crush on his best friend of 15 years) than others.
If this sounds rather a lot like "The Big Chill" ("La Grande Fraîcheur," if you want to get fancy about it), Canet hardly fends off the comparison with an excessively foregrounded jukebox soundtrack of 1960s rock and soul standards — Gladys Knight, The Isley Brothers and Janis Joplin all feature — this despite the fact that most of the principals are well below boomer age. Like that 1983 touchstone work, "Little White Lies" breezes along on ample good humor and a charismatic, not to mention infuriatingly attractive, clutch of actors — of which Benoît Magimel (as the aforementioned bi-curious family man) and Marion Cotillard (as the unmoored lover of the crash victim) are the most valued players.
Canet is less successful at locating the generational ennui that unites and underpins these characters, most of whom are too flimsily drawn to bear much scrutiny, while the social and sexual mores of the piece are surprisingly cautious, even conservative, throughout. Still, it remains a classy if oversized divertissement that should tidily pack out the arthouses: rather like the vacation being portrayed, there's much fun to be had for those who don't ask too many questions.
[Photo: EuropaCorp]