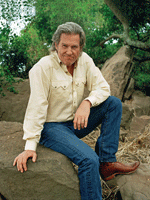 I was talking with a filmmaker/Academy member yesterday who asked me where I saw the Oscar landscape heading over the next few months. We had the usual (by this time of year, unfortunately boring) conversation with me making the usual points, before he offered, "I think it's going to be 'True Grit.' It just feels that way. And I think Bridges is going to get two in a row."
It's a meaningless Sunday afternoon discussion, mind you, and not indicative of anything more than one guy's view. But here's someone who hasn't seen a number of the big contenders that have received plenty of press as of late, but all he could think about was the Coens' upcoming western adaptation. If anything, it's indicative of how much of a hold the film seems to have on the industry sight unseen, as I frequently encounter this kind of anticipatory giddiness.
I've been reading Charles Portis's novel as of late, and striking to me has been the simplicity of the dialogue and near mundane way the prose plays out (typical in most western novels, but not stylized in this way). Dare I say it reminds me very much of Cormac McCarthy and, specifically, "No Country for Old Men." No surprise, then, that the Coens were drawn to the material, and that's a point actor Jeff Bridges makes in a recent interview with Cowboys & Indians magazine.
Says Bridges:
You really feel that you are back in the 1890s…The book's dialogue and story are a bit eccentric, and the Coen brothers keep that rhythm going and create the sense that you're back in the era when the story took place. It's a great place for Ethan and Joel to be, and when you read the book you can imagine the two of them directing this movie.
And on the production:
I get to do the classic reins-in-my-mouth riding while firing the guns when we were in hot pursuit of Tom Chaney, the killer of Marries' father. I tried these tricky moves on a mechanical horse first before Joel Coen asked if I wanted to try it for real.
It's a nice trip down memory lane for the actor, not unlike my extensive sit-down with him from last year. He talks his love of horses (leading, of course, to talk of playing Charles Howard in "Seabiscuit"), working on "True Grit" and "TRON Legacy" simultaneously (going from black leotards on a sound stage to wind-blown dusters on New Mexico exteriors) and again sings the praises of "Crazy Heart" director Scott Cooper, calling the film a "high point in my career for so many reasons."
The issue is on newsstands now but you can save some trees and read the full piece online here.
[Photo: Cowboys & Indians]