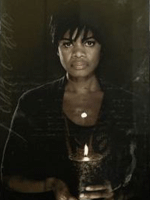 Tyler Perry's "For Colored Girls" screened last week. I haven't heard anything. Maybe the silence is deafening? In any case, the film is set to hit theaters November 5 and has drummed up some awards buzz that is beginning to fade as of late.
Off the press release wire today, Lionsgate Marketing Chief Tim Palen — himself an accomplished and award-winning photographer — has created eight "Living Portraits" for the film, which will be on display at the Lehman Maupin gallery in New York October 24th-27th.
Lionsgate has created an online gallery to showcase the work. This was debuted exclusively at Yahoo! Movies but there is a link that redirects to this site, a nifty virtual gallery where you can view all eight. It's a unique way to market a film, that's for sure. Meanwhile, Macy Gray's work may have joined Kimberly Elise's and Thandie Newton's as stand-out, potentially awards worthy performances in the film.
Check out an embed of the Janet Jackson "living portrait" after the jump.