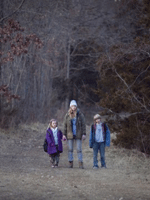 The nominees for the 20th annual Gotham Independent Film Awards were announced this morning by Elvis Mitchell via live stream and we get a lot of what we'd expect.  Debra Granik's "Winter's Bone" received three nominations, including Best Feature, while Lisa Cholodenko's "The Kids Are All Right" received two.  Those were the list-toppers.
Darren Aronofsky's "Black Swan" received one nomination, for Best Feature.  The director is also getting an honorary award, however, as previously announced.
The biggest surprise for me is "Let Me In" nailing down a Best Feature nomination.  I was happy to see Glenn Ficarra and John Requa nail down a Breakthrough Director nomination for the delightful "I Love You Phillip Morris," and I also caught "The Company Men" last week (the same day as Ficarra and Requa's film, actually).  It's a tight piece of work and it's nice to see John Wells spotlighted in that category, too.
Check out the full list of nominees after the jump.
Best Feature
"Black Swan"
"Blue Valentine"
"The Kids Are All Right"
"Let Me In"
"Winter's Bone"
Best Documentary
"12th & Delaware"
"Inside Job"
"The Oath"
"Public Speaking"
"Sweetgrass"
Best Ensemble Performance
"The Kids Are All Right"
"Life During Wartime"
"Please Give"
"Tiny Furniture"
"Winter's Bone"
Breakthrough Director
John Wells, "The Company Men"
Kevin Asch, "Holy Rollers"
Glenn Ficarra, John Requa, "I Love You Phillip Morris"
Tanya Hamilton, "Night Catches Us"
Lena Dunham, "Tiny Furniture"
Breakthrough Actor
Prince Adu, "Prince of Broadway"
Ronald Bronstein, "Daddy Longlegs"
Greta Gerwig, "Greenberg"
Jennifer Lawrence, "Winter's Bone"
John Ortiz, "Jack Goes Boating"
Best Film Not Playing at a Theater Near You
"Kati with an i"
"Littlerick"
"On Coal River"
"Summer Pasture"
"The Wolf Knife"
Honorary Awards
Darren Aronofsky
Hilary Swank
Robert Duvall