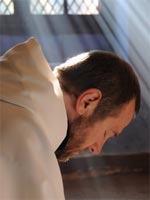 (Please note that one of the films reviewed here, "Aftershock," was not screened as part of the London Film Festival programme — but since I saw it this week, it made sense to include it in this discussion.)
Admittedly, 11 out of 65 is a figure that is only impressive if you're counting the listenable tracks on most latter-day hip-hop albums, but as a measure of the number of Best Foreign Language Film contenders I've seen, it's more than I've ever managed by this early point in the race. For that, I have my growing trail of film festivals to thank (even if I also have Venice schedulers to blame for ensuring that I missed Canada's hot prospect "Incendies" in favour of — of all things — "Miral"), and this year's London Film Festival has served me particularly well in this regard.
I'll be seeing Belgium and Spain's entries toward the back end of the festival, but having attended screenings of five contenders in the past week (four of them at the fest), it seemed a neat number for a cluster-review. (I've already discussed the hopefuls from Algeria, Czech Republic, Greece, Mexico, South Africa and Thailand on these pages, as well as in Friday's episode of Oscar Talk. Meanwhile, I thought it less curmudgeonly to limit myself to a 140-character review of India's entry a few weeks back.)
Leading today's roundup is the title most likely to show up in January's Oscar shortlist, and the film that I was supposed to review from the Croisette way back in May. You may recall that my first encounter with France's entry, Xavier Beauvois's "Of Gods and Men" (**1/2), was not a successful, or particularly sentient, one; finding myself unable to stop my eyelids drooping as I entered a breakfast-time screening on two hours' sleep, I bolted after 30 minutes, resolving to give the film a fairer shake at a later date.
Five months and forty winks later, I settled keenly in for my rematch with Beauvois's Cannes Grand Prix winner, only to find the result something of a disappointing draw. Certainly, the fault for my Cannes slumber does not lie with the film, a self-consciously staid but mostly compelling account of circumstances leading to the tragic massacre of seven Cistercian monks in North Africa in 1996. Beauvois works on the assumption that we know — if not from memory, at least from the film's publicity — how the story ends, meaning any narrative tension generated has the unnerving over-the-shoulder quality of a (supremely well-behaved) horror film: the question is not what will happen, but when.
But if "Of Gods and Men" ultimately had my attention, it did not have my heart — a problem, since that's the very thing it works overtime to snare. There's a touching sense of unspoken interdependence conveyed by the strong ensemble of French stalwarts (Michael Lonsdale and Lambert Wilson chief among them) playing the doomed holy men, as the film lingers methodically on their shared daily activity and echoed gestures, but Beauvois overeggs the pudding in scenes where they converse, worthily and starchily, about faith and sacrifice.
Perhaps perversely, I found myself resisting grand set pieces designed to ram home the noble pathos of it all — most notably, a much-lauded slow pan across their alternately anguished and resigned faces at the dinner table, thunderously scored to Tchaikovsky — as one resists any instruction to feel something. One of my Croisette roommates bluntly described "Of Gods and Men" as "the Cannes equivalent of Oscar bait," and having at last completed my viewing, I know precisely what he means: this is handsome, considered and compassionate filmmaking that never seems less than fully aware of its own importance.
By contrast, reigning champ Argentina's entry, "Carancho" (***), is a whipcrack entertainment that wears its social consciousness as loosely as a last-minute accessory. Part sexy contemporary noir and part headline-ripped exposé, revolving around the personal and professional dalliance between a corrupt ambulance-chasing lawyer and a weary, drug-addicted emergency medic, director Pablo Trapero's follow-up to his fine 2008 prison drama "Lion's Den" suggests slick romantic thrillers could be rivalling steak as their country's prime export.
That's not to liken "Carancho" to the soapier, Oscar-crowned "The Secret in Their Eyes," though both films share a leading man in the splendidly grizzled Ricardo Darin. (It could be similarly remake-bound, too, if smart Hollywood producers prick up their ears.) Trapero's film, more jagged and lying far closer to the gutter, has an intriguingly malleable moral compass, neither condoning the protagonists' dubious choices nor revelling in faux-shock over them (though there's at least one coolly frank scene of self-inflicted injury that'll make your eyes water). Tightly assembled and charismatically performed by the stars — joining Darin is Trapero's piercing "Lion's Den" lead Martina Gusman — "Carancho" doesn't entirely deliver on the macabre promise of its premise, but regathers its nerve for a pleasingly off-track ending.
I should be careful about using terms like "off-track" before discussing Estonia's submission "The Temptation of St. Tony" (***1/2), because if such a word can be applied to a relatively conventional genre piece, then Veiko Õunpuu's blacker-than-tar absurdist comedy is so far off track as to have caused all GPS systems to spontaneously self-combust. Akin to Roy Andersson adapting Kazuo Ishiguro's "The Unconsoled" under a low-hanging cloud of Catholic guilt, the film presumably turned a few heads at Sundance earlier this year — it actually managed to secure a limited US release last month, though you could be forgiven for not noticing.
The loose-limbed (or perhaps just many-limbed) story centers on Tony (the admirably deadpan Taavi Eelmaa), a successful but stultified factory middle manager whose father's death is the trigger for an impassive yet severe midlife crisis, one that takes the form of assorted hallucinations of undressing policemen, severed hands, violent gimp-run cabaret nights and Cannibalism on Ice — until the balance of reality seems to tip in the direction of this non-sequitur parade.
Glisteningly shot in silvery black-and-white, and graced with a dazzlingly atonal sound mix, "The Temptation of St. Tony" spiders its way into allegorical statements on capitalism, history and religion without ever fully showing its hand; better still, it's mordantly hilarious from its very first shot. Even by its own wilful standards, the anti-narrative dawdles in the middle stretch, and the film ends precisely one scene too late, but this is the kind of invigorating oddity for whom the projection "Never in a million years will this get an Oscar nod" can be read as nothing but the highest praise.
If "The Temptation of St. Tony" continues to tease and amuse me nearly a week after viewing it, Kyrgyzstan's entry "The Light Thief" (**1/2) has all but evaporated from my mind over the course of a mere weekend, leaving in its place only unhelpful adjectives like "pleasant," "rustic" and "zzzz." Aktan Aryn Kubat's film is two parts easygoing rural fable to one part only moderately less easygoing political satire, chronicling the travails of a gentle, community-minded electrician elevated to the status of activist by the villagers when dastardly landowners threaten their well-being. Kubat has a neat compositional eye and a fluid, engaging sense of the stop-start rhythms and swells of village life, but it comes at the expense of some storytelling urgency.
Finally, the Chinese submission, Xiaogang Feng's "Aftershock" (*1/2), probably arrives in the race with more fans than its 64 rivals can boast between them — the film currently occupies the #2 spot in China's all-time top grossers list, right behind "Avatar." Having seen the film, what have I learned? Well, for starters, that the great Chinese public's taste in blockbusters is no better than that of the "Transformers"-guzzling masses on this side of the world, though it is markedly more eccentric. A lengthy natural disaster melodrama that one of Robert Altman's desperate execs from "The Player" might have hopefully hawked as "'Deep Impact' meets 'Sophie's Choice'" (sans the delicacy of either film), it tells the decades-spanning story of a family riven and gradually reunited by the devastating Tangshan earthquake of 1976.
The all-caps drama is set in motion when the mother of twins is forced to choose which child to save when both are trapped under rubble. (There Are Repercussions.) It's not the first drastic decision a parent is required to make in the course of the film: "Cut off my daughter's leg!" another mother screams later on as rescue workers true to extricate her offspring from a concrete avalanche. "I want my daughter's leg back!" she shrieks minutes later, in a textbook bit of careful-what-you-wish-for pathos.
All shonky digital effects, frequently perplexing dialogue (" I have washed the tomatoes for you," mother says to greet long-estranged daughter, lower lip a-tremble) and performances so unreadable someone elected to subtitle even the English-speaking actors, "Aftershock" is a veritable howler — but I can't pretend it wasn't more fun than "Of Gods and Men."
[Photo: Sony Pictures Classics]