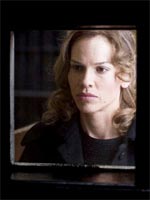 "To get the challenge to play someone like this makes me a better person," said a rather intense-looking Hilary Swank at yesterday's London Film Festival press conference — the someone in question, single mom turned crusading lawyer Betty Ann Waters, sitting to her immediate left.
Not being personally acquainted with Ms. Swank, I can't verify the before-and-after truth of this claim, but I can say that this endearingly earnest tone is entirely shared by Tony Goldwyn's film "Conviction" (**1/2).
A rote courtroom drama that is but one "The Betty Ann Waters Story" subtitle — and Jaclyn Smith casting switch — away from being Thursday night TV fodder circa 1988, "Conviction" (which opened in the US yesterday) is one of those so-implausible-it-has-to-be-true stories that blandly and single-mindedly champion blanket virtues like hope, loyalty and tenacity over finer, more fractious social and personal details, but keeps you dorkily invested in its principals' plight despite your better instincts.
Swank plays Waters, the Massachusetts housewife who takes on the case of her rogue brother (Sam Rockwell) when he is wrongfully (or so she, and therefore we, assume) convicted of murder, with the same balance of blunt pluck and frowny defiance that she brought to similarly uninspired inspirational exercises like "Freedom Writers" and "Iron Jawed Angels". She could hardly be more committed, but with Pamela Gray's rigid script largely limiting her expressive requirements to "determined" and "more determined," it's a shame that the actress's more acridly inquisitive gifts aren't called upon. The supporting ensemble surprises, with contributions that range from the queasily unpinnable (Rockwell) to the grandly amusing (Juliette Lewis) — which is as well, since the filmmaking emphatically does not.
Still, each time a particularly chintzy line of Hallmark dialogue or a fresh surge of Paul Cantelon's insistently mournful, ivories-thumping score threatens an attack of the giggles, the film doggedly throws up a further grim obstacle to drive home Waters' courage and selflessness — by god, the woman became a lawyer to save her brother, dammit! — and thereby chide us for our cynicism. I can't say "Conviction" made me a better person, as it allegedly did its star, but it at least reminded me of what an awful one I am.
Over on the more specialist end of the market, John Sayles's latest effort "Amigo" (*1/2) is just as unsubtle and untaxing a liberal issue drama as "Conviction" — minus the puppyish charm and fundamental narrative drive. An overlong,  papier–mâché period saga in which every mud-flecked costume still looks freshly run off the sewing machine, the film takes on the under-attended, and potential-laden, subject of the Philippine-American War, narrowing its focus to the clash between one US garrison and a small Luzon village at the turn of the 20th century, with one slippery Spanish-speaking priest acting as personal and political go-between.
This thematic territory of cultural mistrust via miscommunication should be a generous playground for a humane writer's writer like Sayles, but his usual anthropological ear and eye for class tension and social custom have mystifyingly deserted him here — halfway through the film, my note-taking devolved into simple transcription of the multiple howlers in the dialogue. "Let him know the path he took was the right one," one member of the film's mostly featureless (save for a wincingly overbaked Chris Cooper) ensemble intones at one point, his face kept laudably straight. "To follow what he felt in his heart." With this level of insight, "Amigo" is at least democratically racist: its boorish Yankees are patronized as much as the stoically simple natives.
Rounding out a trio of American narrative features that made their European debut at the fest yesterday, writer-director Dan Rush's debut "Everything Must Go" (***) represents the third feature-length attempt at bringing the penetratingly low-key literary voice of Raymond Carver to the screen — and while it falls some way short of the glories of "Short Cuts" and "Jindabyne," it at least provides leading man Will Ferrell with a good vehicle for his inevitable "go serious" moment, one that permits him to Emote without sacrificing his clumpy everyman charm.
Playing a retrenched, relapsed alcoholic who, thrown out of house and home, defiantly camps out on his front lawn until made to do otherwise (if you recognize that pitch, yes, it's an adaptation of Carver's story "Why Don't You Dance?"), Ferrell is a little effortfully restrained but still morosely funny, and there's welcome support from Michael Peña as his conflicted sponsor and Rebecca Hall (faintly miscast but warmly empathetic) as his reluctantly intrigued neighbor. Attractively lit and easily paced, the film breezes amiably by in a way that a Carver adaptation probably should not: Rush has cushioned the author's stinging wit (as well as his preoccupation with inborn human bitterness) with cosy catharsis and convenient imagery, but on its own terms, this is a tidy and touching arrival.
Later: Multiple festival screenings to discuss this weekend, so you might have to forgive some even shorter-form reviewing than the piece you've just read. Still, among other things, expect thoughts on "Carlos," Errol Morris's "Tabloid" and a triple-shot of Best Foreign Language Film contenders.
[Photo: Fox Searchlight]