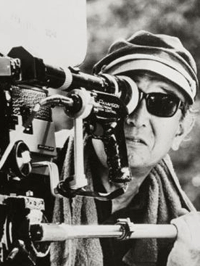 Catch up with the idea behind these weekend posts here.
And speaking of the weekend, thank God it's here.  That's all I can say.  I'm still pushing through Peter Weir's catalogue.  Next up: "Dead Poets Society," which I probably haven't watched since I owned the VHS.  But more and more, I'm finding that "The Way Back" is more reflective of his early work, and it perhaps has the most in common with "Gallipoli."
After that I'm thinking about re-visiting Kurosawa's work.  Much of the early stuff I've never seen, actually, and it'll be a nice reprieve from Oscar madness during the season.  Boy is that absolutely necessary.
But I also need to hunker down and finish reading Charles Portis's "True Grit." I'm hoping to do something special list-wise around the release of the Coens' new adaptation and as much as I loathe the first film, I never sat down and read the novel until recently.  It's a real charmer and easy to see why the Coens were drawn to it's no-nonsense prose.
If you get a chance to see "Red" this weekend, I wholeheartedly recommend it.  I don't know what this guy is on about, but for a brainless night out at the movies (and we need those every once in a while), it's very much worth the price of a ticket.  Hell, John Malkovich is worth the price of a ticket.  Also, Bruce Willis stepping out of a fast-spinning vehicle is one of the coolest action beats I've seen in years.
Although, I guess if brainless is what you really want, "Jackass 3D" will be playing right across the hall.
Guy will be covering London fest throughout the weekend and into next week, so keep a lookout for his posts.  And for now, the floor is yours.  Open thread.  Have at it.
[Photo: Twitch Film]