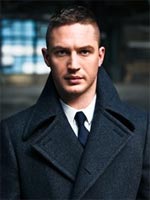 • Off the Carpet picked out the likeliest runners in a highly malleable Best Supporting Actress race.
• We checked in on the Best Animated Feature race, where it seems we may be looking at a three-nominee field after all.
• Away from the awards beat, the week's big news was the casting of Tom Hardy in Christopher Nolan's next Batman venture.
• The Academy formally revealed the list of 65 contenders for Best Foreign Language Film.
• This was just one topic of conversation in this week's busy episode of Oscar Talk, which saw Kris and Anne joined by Guy and indieWIRE's Peter Knegt.
• As our coverage of the London Film Festival kicked off, this week's Long Shot column pondered the fate of fest opener "Never Let Me Go," and other prestigious awards-season misses.
• Tech Support took a return visit to this year's Best Cinematography race.
• Julian Schnabel's critically panned "Miral" completed its awards-season flameout as The Weinstein Company booted it into 2011.
• We were given an exclusive insight into the casting of potential Best Supporting Actor player Sam Rockwell in "Conviction."
• Kris was wowed by Jim Carrey's work in the long-postponed "I Love You, Phillip Morris."
• After "Blue Valentine" controversially received the rating last week, this week's list rounded up some of the most notable NC-17 films of the past two decades.
• Life Without Oscar continued its examination of what was acceptable in the 80s.
• "The Social Network" held the top spot at the box-office, with "Secretariat" inspiring innumerable "slow out the gate" puns.
• And finally, at least one Oscar race got properly under way as the Academy announced the eight films longlisted for the Best Doumentary Short award.
[Photo: Moviebuzzers.com]