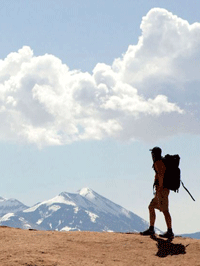 Today we take a look a second look at, well, certainly the most "cinematic" of categories: Best Cinematography. As I like to say, cinema is born out of the camera and those who wield these devices enrich our films more than a few words written here could possibly say. From capturing mood, lighting and atmosphere to telling the story visually and creatively, our cinematographers truly are artists in every sense of the word.
Naturally, "pretty" films, war films and Best Picture nominees all have a knack for doing particularly well in this category.
Now that the trailer for "True Grit" has reached the internet, I surely cannot be the only person asking…is this the film that will finally bring Roger Deakins his Oscar?  He has eight nominations (four for Coen brothers films), tragically winning zero times. The photography looks amazing, and the film is exactly the sort that would seem to excel in this category. That the film also looks like a bigger Oscar player across the board (more than I was originally expecting) is merely icing on the cake.
Anthony Dod Mantle won this category, on his first nomination, for Danny Boyle's "Slumdog Millionaire" two years ago. With Enrique Chediak, he will be lensing Boyle's "127 Hours" this year, capturing the harrowing journey of James Franco's character in the grueling heat of Utah's Canyonlands National Park.  This film will be made by its imagery.  I haven't seen the film but I expect this duo to deliver. And if they do, I expect Oscar could take note.
Another one-time nominee/one-time winner I expect to see return this year is Russell Boyd.  His cinematography for Peter Weir's "The Way Back" has scored a mixture of reviews (the most glowing probably from Kris in this space). The last time Weir worked ("Master and Commander: The Far Side of the World"), Boyd won this category.  Awards potential will certainly depend on savvy marketing, but if it scores anywhere, I expect it will be here. Knowing Weir's Oscar track record, a shutout would be a surprise.
A man with three recent nominations (in as many shots on goal), but still awaiting his first win, is Wally Pfister. The innovative work on "Inception" was merely one among many assets in the film's crafts departments and showed just how well Pfister works with Christopher Nolan. After nominations for "Batman Begins," "The Prestige" and "The Dark Knight," I think this will make him four-for-four.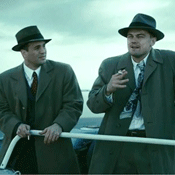 I have a strong hunch that the above four films will be among the final five (not that one can be that confident from this far out.) But what to place next gave me a great deal of pause.
"Secretariat" is a very handsomely mounted production which clearly had Oscar on its mind and fared well enough with the critics. But I still cannot help but wonder why Dean Semler has never managed to receive a follow-up nomination after "Dances With Wolves" 20 years ago.  And the film hasn't exactly set the world on fire, either.
The great Robert Richardson must always be considered. "Shutter Island" was not the most memorable work he has ever done but it was possibly the most memorable thing about the film – and this is a Martin Scorsese film, after all. So while I think the film will be forgotten, if it scores anywhere, expect it to be here.
Richardson's nomination last year for "Inglourious Basterds" placed him alongside surprise nominee Bruno Delbonnel for "Harry Potter and the Half-Blood Prince" in a slightly surprising nomination (given the trajectory of the circuit until that point).  This year, Eduardo Serra is in the running for "Harry Potter and the Deathly Hallows: Part 1." As I've stated before, I think next year's title is when AMPAS may (I'm still not convinced) give its blessing to this series. While virtually all crafts artists are contenders, I doubt more than one or two of them will be nominated and, given the history of this series, it is almost impossible to guess in advance which ones.
I used to think Adam Kimmel would be a very strong candidate for "Never Let Me Go." Capturing the beauty of Southern England in wartime is very often a good strategy for finding love from Oscar in this category. Then the film's Telluride and Toronto reception was more disappointing than I expected. That said, I still wouldn't completely rule this out.
A great cinematographer who has yet to be nominated is Harris Savides, this year behind the camera on Sofia Coppola's "Somewhere." The film managed to delight audiences in Venice, and there can be no doubt that Coppola is a well-respected director.  But while I suspect this film will not be Oscar's cup of tea, I've long maintained Savides would one day be nominated. When it comes, it may very well be for something surprising.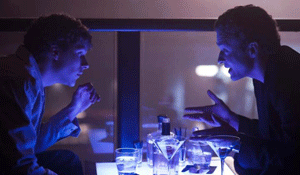 Another film I'm not sure how to qualify this Oscar season is David O. Russell's "The Fighter," which could either be a big hit or not catch on at all. Whatever happens, Hoyt Van Hoytema will have great opportunities to capture the gritty Boston mood and fight sequences. Those who have seen "Let the Right One In" will quickly verify his talent. That said, this doesn't seem an obvious Oscar category for this title and I remain skeptical of the film overall.
Then we come to the Best Picture contenders. Jeff Cronenweth's lensing of David Fincher's "The Social Network" was well-received in many circles. The film is arguably the Best Picture frontrunner (though I can't help but wonder if it is peaking too soon) and that often leads to a nomination here. That said, the work isn't as showy as many nominees in this category tend to be.
Speaking of frontrunning contenders, if "The King's Speech" sweeps the nominations (as I suspect it might), Danny Cohen could easily earn a trip to the Kodak. I'd place him in sixth, as I have a different hunch for my fifth position.
I am tempted to look to a title I've had my eye on for a few weeks: Darren Aronofsky's "Black Swan." Though the film has been somewhat divisive, it has nonetheless managed to attract a very strong fan base. I also maintain that Matthew Libatique will eventually be nominated for an Aronofsky title.  A moody dance-based film will be one hell of an opportunity. Could it be his time?
We'll see if my four principals and somewhat edgy alternate are still looking good in December. In the meantime, there are eight more categories to cover.  Have your say on the cinematography field in the comments section below.
[Photos: Fox Searchlight Pictures, Paramount Pictures, Columbia Pictures]