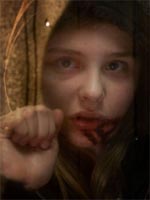 "It's quality work. There are simply too many notes," says the Emperor Joseph II to an incredulous Mozart in Milos Forman's 1984 Oscar-guzzler "Amadeus." It's a delicious critique, and it's one I've found myself remembering a lot over the past few weeks of London Film Festival viewing, during which I seem have jotted down the word "overscored" in more shorthand film reviews than I care to count. (On the bright side, it's made me all the more appreciative of the minimalist power of Trent Reznor and Atticus Ross's work on "The Social Network.")
But then I seem to have watched an inordinate number of recent films — be they down-the-middle Hollywood product like "Conviction" or ungainly European art films like Ferzan Ozpetek's "Loose Cannons" — that suffer to some extent from the sheer conspicuousness of their music scores, scene after scene smothered in swooping strings or plinky piano motifs aimed to telegraph emotion instead of supplementing it.
The two biggest offenders, in my book, are scores from gifted, Oscar-winning composers that have garnered much acclaim and even awards buzz: Rachel Portman's for "Never Let Me Go" and Michael Giacchino's for "Let Me In."
Both are highly skilled, polished feats of composition that nonetheless struck me as counterproductive to the films around them: Portman's lush orchestrations don't fit the brittle emotional textures of the romance at the center of Mark Romanek's film, while Giacchino's loudly throbbing soundscapes and choral interpolations struck me as too Grand Guignol for a film that aims for slow-burn horror.
Needless to say, however, I'm on a very different page to some of my colleagues on this issue. Anne Thompson wastes no words in her claim yesterday that "Let Me In" "boast the year's best score." Kris may not have cared much for "Never Let Me Go," but he thought Portman's "gorgeous" score was something of a standout — and a likely Oscar bet.
I wholly agree on the latter point, at least, personal reservations be damned. Following the general principle of "most" equalling "best" in the technical Oscar races, it's always wise to bet on prestige productions that apply their scores both liberally and prominently. Portman won't be budging from my predicted five for Best Original Score any time soon, and I'm even flirting with the idea of adding Giacchino when I next update my predictions. (His place in the club is secure after winning earlier this year, and the Academy's music branch is kinder than most to otherwise shunned genre pics. These are the guys who smartly made "The Village" an Oscar nominee in 2004, after all.)
Where do you stand? Did you feel enthralled or over-instructed by these scores? Do I protest too much, or have any other recent films had you wishing you could turn the music down a notch?
[Photo: Overture Films]