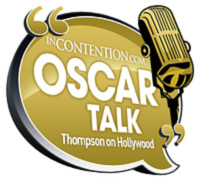 Welcome to Oscar Talk.
In case you're new to the site and/or the podcast, Oscar Talk is a weekly kudocast, your one-stop awards chat shop between yours truly and Anne Thompson of Thompson on Hollywood. The podcast is weekly, every Friday throughout the season, charting the ups and downs of contenders along the way. Plenty of things change en route to Oscar's stage and we're here to address it all as it unfolds.
This week we're happy to be joined by In Contention's own Guy Lodge and indieWIRE's Peter Knegt, both calling from London where the London Film Festival has just kicked off. Plenty to chew on with four voices on the mic so let's see what's on the docket…
• With Guy and Peter in London it's a good time to offer up a preview of sorts for this year's fest. The opening night film was "Never Let Me Go" (meeting a cool response similar to what it received Stateside), but both are enjoying playing a bit of catch-up on this title and that.
• Guy, Anne and I caught up with Olivier Assayas's "Carlos" recently — the five and a half hour cut, not the shortened theatrical version. We all admire it on different levels.
• The Best Foreign Language Film submissions list landed this week with 65 countries represented. Guy has seen a number of these already (I tend to hold off until later in the year). He, Peter and Anne talk about what they've seen and what trajectory the category could take in a lengthy discussion.
• Something all four of us have seen is Derek Cianfrance's "Blue Valentine," which was slapped with an NC-17 rating by the MPAA this week. We discuss the implications and fairness of the decision.
• Speaking of Ryan Gosling, Anne and I caught up with Andrew Jarecki's "All Good Things" earlier in the week, and it was a train wreck by both our measures. Talk on that.
• And once again, listener questions. This week we field queries concerning "Harry Potter and the Deathly Hallows," documentary features aimed at the Best Picture category, "Black Swan"'s Oscar potential and Lesley Manville's lead actress campaign for "Another Year."
Have a listen to the new podcast below (with The Clash leading the way, naturally). If the file cuts off for you at any time, remember you can click the download link to save it directly or play from the source. (It can be tougher to mix with four, so if there are slight sound issues, apologies.) And as always, remember to subscribe to Oscar Talk via iTunes here.
[display_podcast]