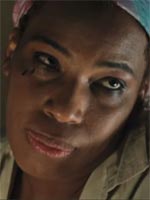 Tyler Perry's "For Colored Girls" has been a question mark on our Oscar lists for some time, but even those pessimistic about the film itself can see potential in the film's vast, and formidable, female ensemble — if there is to be any kind of awards play for the film, it'll be the actors who spearhead it.
A couple of weeks ago, word spread that Kimberly Elise looks to be the standout performer in the group, and a feasible contender in a still wide-open Best Supporting Actress race — 12 years after the actress was the subject of similar (if ultimately fruitless) talk for her work in "Beloved." Recently, we heard that Thandie Newton could be the film's second possibility. However, Jeff Wells quotes an inside source who has seen (and loved) the film, and names a far less expected standout: singer Macy Gray. Here's his enthusiastic endorsement:
[I]t's the real deal — maybe too conceptually out there for safe, old, mainstream white Academy tastes, but the performances range from good (Janet Jackson, Loretta Devine) to great (Phylicia Rashad, Thandie Newton) to pretty much masterful (Kimberly Elise, Macy Gray).
Of course, this is just one guy — and one anonymous guy, at that. (For the sake of balance, Wells's second source admires some of the actors but is far less keen on the film.)
But if you know me even a little bit, you might also know that Macy Gray lies somewhere between my family and brandy pecan pie on my list of Most Loved Things. If this one person is saying she's "pretty much masterful," then, you won't hear me querying his authority. (Plus, if you've ever seen her performance in Lee Daniels's bizarre debut feature "Shadowboxer," you'll surely agree that the Academy owes Gray one.)
Seriously, though, it's exciting to hear just how deep this ensemble could prove. Meanwhile, "For Colored Girls" is also reportedly benefitting from the singer's day job, as Gray has recorded at least one original track for the film. Could she be an awards contender in two categories? Hey, it's Friday… allow me my daydream.
[Image: Lionsgate]