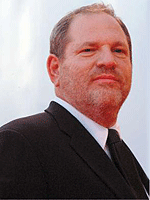 In case you missed the news, the MPAA slammed Derek Cianfrance's "Blue Valentine" with a bewildering NC-17 rating last week.  The best guess is that a somewhat intense (though by my measure, not all that eyebrow-raising) oral sex scene was the culprit.
I've heard that Cianfrance will not make any further edits to the film so now The Weinstein Company will be appealing the decision.  This morning, Harvey Weinstein issued the following statement:
We want to express our deepest gratitude to our colleagues in the industry and in the media for their recent outpouring of support for Derek Cianfrance's Blue Valentine after the film surprisingly received an NC-17 rating from the MPAA. We are taking every possible step to contest the MPAA's decision. We respect the work of the MPAA and we hope, after having a chance to sit down with them, they will see that our appeal is reasonable, and the film, which is an honest and personal portrait of a relationship, would be significantly harmed by such a rating.
[Photo: The Independent]