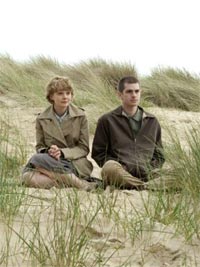 (A day later than usual — apologies.)
After the London Film Festival raised its curtain last night with a typically flashy European premiere for Mark Romanek's "Never Let Me Go," this morning's papers and breakfast TV reports have been busy with chatter about what Britfilm's two it-girls, Carey Mulligan and Keira Knightley, were wearing; how the next Spider-Man (that is, The Artist Formerly Known As Andrew Garfield) is settling into his red-carpet duties; and what the whole event promises about the beleaguered British film industry's ability to, well, throw fancy parties.
Something far fewer people have been talking about, however, is the film itself. That's no great surprise: after securing eagerly awaited world premieres — "Frost/Nixon" and "Fantastic Mr. Fox" — for their last two opening nights, London fest organizers dropped the ball slightly by picking a film that bowed at Toronto last month and has already opened in the States. You can't expect the same level of excitement for a gift that has already been opened by someone else, even if the ribbon has been retied.
Still, the air surrounding "Never Let Me Go" was not merely one of used goods, but of damaged goods at that: yesterday morning's press screening was characterized by a near-palpable cloud of lowered expectations, as tepid-to-respectable reviews and fizzling box-office from across the pond foretold a high-class shrug of a movie. "That's going to get Oscar nominations?" a critic in the row behind me asked as the end credits rolled; his tone translated the question as, "Yeah, good luck with that."
I feel for "Never Let Me Go," even if some might counter that the film doesn't feel much for itself. That's partly because I think it's a worthy — and even brittly interesting — work whose sizable problems nonetheless don't merit the degrading label of "failed awards bait," but largely because it should never have been fingered as awards bait in the first place.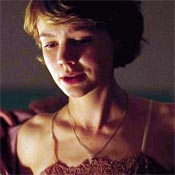 I'm not so naïve as to suggest that a big-name adaptation of an acclaimed highbrow bestseller, from Fox Searchlight of all studios, should never have been in the Oscar conversation. But I can't help feeling that the trailer's honey-hued lensing and cut-glass accents distracted some pundits and viewers from the film's bottom line: that it's a chilly bit of lo-fi sci-fi (and something of a downer at that), from a music video genius who has yet to make a home-run feature. If you're wondering why the Oscar talk around the film went quiet, the answer was in front of you all along.
Of course, that's not to say the film will vanish from the season altogether. The Academy's music branch has a habit of embracing hopefuls shunned elsewhere, from "The Good German" to "Big Fish," and composer Rachel Portman will likely represent the film on Oscar night — even if, ironically, I think her score is its major debit. And in a less crowded year (2005, say), Carey Mulligan's superb lead performance would still be in the thick of Best Actress discussion. Dismissed Best Picture contenders don't disappear. They just lower their sights and aim for inclusion in the less pressured races, where even a below-the-line nod or two can make a difference to a film's exposure and income.
So to quote last year's doozy of an awards-season misfire, "The Lovely Bones," Romanek's film now finds itself (cue fearfully hushed voice) in the In-Between. Is it too early to call it the first casualty of the 2010 season? (It's certainly not the last.) Like Susie Salmon in her sunny cornfield of culled playmates, however, it's not alone in its suffering: the road to Oscar is littered with the burnt-out shells of sturdy vehicles that crashed, or simply ran out of gas, somewhere along the way.
Their possible reasons for underperforming are many. Last year, rather like "Never Let Me Go," pundits blamed a too-early fall release for the cold shoulder afforded Jane Campion's far more critically beloved "Bright Star," but perhaps the film would have proved too delicate to take hold in any month.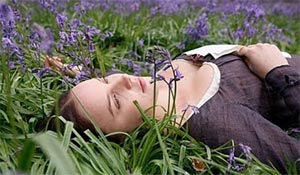 Others, like "Cold Mountain" and "Dreamgirls," are accused of trying (or campaigning) too hard. It's not always about strategy, either: sometimes a film simply doesn't catch on because, well, it turns out to be irremediably awful: ladies and gentlemen, I give you "Amelia."
At the same time, however, a stalled Oscar campaign can amount to a test of a film's true worth: a film that fades from the public or critical consciousness once the Oscar circus has rolled out of town is likely to be one that never deserved to be there in the first place. How many of you have seen "Memoirs of a Geisha" again in the past five years? Hell, how many of you have so much as thought of "Invictus" in the past five months? Future generations will marvel some of the films that were once thought to be hot tickets, while other Oscar-season underachievers like "The Wrestler," "A History of Violence" and "The Talented Mr. Ripley" continue to cultivate their fanbases. Failed Oscar bait is one thing. A failed film is quite another.
[Photos: Fox Searchlight and Apparition]