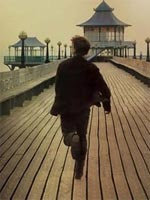 In a year that has seen me give over more of my time than is strictly sensible to covering the Cannes, Venice, Berlin and Edinburgh programmes, there's something oddly disconcerting about attending a festival in my home city.
Admittedly, the atmosphere is dampened by the fact that many of the London Film Festival's biggest drawcards this year are films I already caught at, well, Cannes, Venice and Berlin — I feel rather as if I've betrayed the fest that's been my cinephile lifeline for five years. More than that, however, when your thoughts between screenings are peppered with grocery lists, doctor's appointments and other everyday intrusions, it's hard to feel you're at a festival at all.
Yet a festival the LFF most proudly is, and a large one at that, incorporating over 170 new(ish) features, plus formidable retrospective and short-film sidebars. The advantage of having got a head start with many of the most anticipated gala screenings ("Black Swan," "Another Year" and the like) is that I've been afforded time this year to seek more buried treasure.
The past two weeks of advance press screenings (a godsend for London residents, an irritation for others) have already turned up a few such gems, as well as allowing me to fill in a few gaps I left in Cannes, in particular. I will cover them in due course as they pop up in the festival programme — those of you who follow me on The Twitter may already have noticed a string of (very) short-form festival reviews.
So after "Never Let Me Go" formally opened proceedings last night — with a lavish afterparty that I regret to say I didn't wheedle my way into this time — today marked the first full day of public festival activity. Less so for yours truly: having already seen the day's big offerings, I opted instead for a non-festival screening of Chinese Oscar submission "Aftershock." (More on that in tomorrow's Oscar Talk.) I also managed to avoid the festival's keynote address by director Ken Loach this evening, only for the Twitter grapevine to later inform me that it was a genuinely stirring speech. Them's the breaks.
Following on from "Never Let Me Go" (***), which I addressed to some degree in today's Long Shot column, today's major UK premiere was Matt Reeves's "Let Me In" (**). With both films essentially yesterday's news for our US readers, I shan't dwell too long on them, but I'm afraid to say that neither one left me particularly surprised at its tepid Stateside reception.
What does surprise me, however, are the waves of critical and blogosphere enthusiasm for "Let Me In," a proficient, over-cautious and infrequently inspired cover version of Tomas Alfredson's 2008 arthouse horror hit — a film, I should say, that I like a great deal, but hardly hold sacred. The new writer-director fiddles slightly (and not ineffectively) with the structure of the opening, but as the film progresses, it hews ever closer to both the narrative and visual template of the original: a mark of respect, some might say, but more akin to a gawky kid brother who demonstrates admiration for his elder sibling by imitating their every action. Reeves doesn't just copy scenes wholesale, but gingerly italicizes them with crude digital effects and Michael Giacchino's smothering score. The material is too strong not to remain essentially compelling, and Kodi Smit-McPhee is a thoughtfully arrhythmic presence in the lead, but any sense of discovery — or alarm — is sacrificed to inside-the-lines coloring.
"Never Let Me Go," meanwhile, takes a similarly hat-in-hand approach to widely beloved source material, but makes some judicious tucks and fillets in the adaptation that, in its best moments, keep the narrative hovering in uncertainty even for devotees of Kazuo Ishiguro's novel. Cutting immediately to the chase with its sci-fi premise (thanks to some tight exposition from an unusually but effectively crisp Sally Hawkins) where Ishiguro teased it out for longer, the film prioritizes its emotional investigation over its ethical one, but skimps on the finer connecting tissue in the relationship between its three protagonists. That has understandably led many to write the film off as cold, but I found something curiously moving in its chilly guardedness, abetted by a pair of naturally vulnerable and empathetic performers in Carey Mulligan and Andrew Garfield. A shame, then, that this intelligent but over-scented film resorts to instructive voiceover and Rachel Portman's keening score in its closing stages to make sure we know how very sad a clone's life is.
Of the day's other UK premieres, I already reviewed "Silent Souls" and "Chongqing Blues" out of Venice and Cannes respectively, but we were at least served one world premiere in the shape of British artist Gillian Wearing's feature debut "Self Made" (***). The latest in a long line of 2010 releases fudging the boundaries between documentary and narrative filmmaking, Wearing's film — likely to find a more natural home on UK television screens soon enough — taps into reality TV modes of psychology and performance by recruiting members of the public to star in a series of semi-improvised short films adapted from their own experiences.
Wearing's chosen subjects are linked by their working-class backgrounds and emotional inarticulacy, and there's a queasy thrill in seeing some of them unwittingly expose key character failings and insecurities via an intensive series of therapeutic drama workshops and their eventual meta-performances. The director is clearly more taken with some of them than others, giving the film a lopsided, unfinished quality, and some of the exercises chosen are thuddingly obvious — a modern-dress "King Lear" extract for a teenaged girl with paternal-neglect issues falling particularly flat. But while some of my colleagues have dismissed "Self Made" as exploitative and self-regarding — "Big Brother" going for the Turner Prize, if you will — there's a palpable sense of discovery and endangerment here that justifies the hit-and-miss experiment.
Tomorrow: I get my first look at Oscar hopeful "Conviction," while John Sayles's "Amigo," hit Sundance doc "Waste Land" and Will-Ferrell-gets-serious vehicle "Everything Must Go" will all come under scrutiny.
[Photo: Fox Searchlight Pictures]