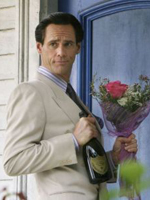 I really can't sing the praises of Glenn Ficarra and John Requa's "I Love You Phillip Morris" enough.  It's a shame the elusive film, which has been sitting on a shelf waiting for a release for some time, has taken this long to see the light of day, because it's a delightful romp with genuine dramatic hues.  And it probably features Jim Carrey's finest performance to date.
The thing about Carrey — who I've admired through thick and through thin — is that there has always been something self-aware about his work.  I think he has been magnificent in everything from "The Truman Show" to "Man on the Moon" to, certainly, "Eternal Sunshine of the Spotless Mind." And the latter is where he seemed to finally be settling into a groove as a thespian more than a performer.
Nevertheless, in virtually all of his dramatic performances to date (especially his work in the ill-received "The Majestic"), he seemed to be watching himself with a third eye, which inevitably held him back.  In "I Love You Phillip Morris," all of that is gone.  He's never felt so organic and believable as a character and he legitimately deserves to be a part of this year's awards discussion.
Of course, it's an uphill climb.  It'll be tough to get voters to watch the film, though if they did, I'm convinced they would have an absolute blast.  Ficarra and Requa tell this story swiftly and with comedic delicacy.  It's not the kind of film that draws huge guffaws but I was chuckling throughout.  And most of that has to do with Carrey's quirky, unique portrayal.
In the way of a quick background, Carrey stars as Steven Russell, a southern boy who was put up for adoption in his youth and now lives the wholesome white-picket-fence family life in Virginia Beach.  But he's living a lie — he's a homosexual.  One day a brush with death forces him to reassess.  He decides to embrace his lifestyle, leaving his family behind for a life in southern Florida (though he is never out of their lives and is clearly a good father so it's not a dead-beat situation).
In order to maintain the extravagant lifestyle he's attracted to, Steven becomes a refined con man — grocery store "slips," escalator "accidents," etc.  Eventually his cons become more elaborate and lead him to a prison sentence, where he meets Phillip Morris (Ewan McGregor) and falls in love.  They serve their time, get out of jail and begin a new life together, one unfortunately supported by Steven's biggest con of all.
And it's all based on a true story.
McGregor is also very good opposite Carrey and their chemistry is highly believable, their passion quite infectious.  It says something about their talent that the emotion between the characters translates so completely and never feels false.  But it's mostly Carrey's show and he just nails it.
So here's a cry to the awards season gods of futility: take a good look at this performance.  Forgive the pun, but it's a true coming out party for the next stage in Carrey's career.