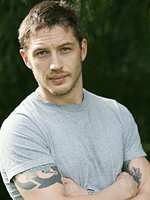 I kind of don't like calling it "Batman 3," but in any case, Mike Fleming is reporting at Deadline that Tom Hardy, star of Christopher Nolan's "Inception," has been cast in a "lead role" in the sequel to 2008's "The Dark Knight."
Naturally, "insiders are keeping the role secret and won't even say if he's up for a villain role, but that seems a reasonable assumption," Fleming writes.  I find myself wondering.  I heard an interesting theory (there are many surrounding these films) some time ago that Hardy would be an intriguing choice for actor Basil Karlo, aka Clayface (given his actorly role in "Inception").  All talk, of course.
There is also discussion that, solely based on the fact that the film is shooting in New Orleans, the villain might be bayou-centric…Killer Croc.  I'd frankly be all about that if they could pull it off.  Part of me wants this third film to embrace the heightened reality of the universe, rather than boil too much further into realism.  Supernatural elements could be done in a classy fashion, I think.
The most likely rumor to be circulated from here will be that Hardy will play The Riddler, since most think that will be our next villain.  The more I think about it, the more I want something fresher.  Karlo, Croc, maybe even Roman Sionis/Black Mask (which can be done realistically, I think).
Furthermore, I Tweeted last night something I know won't happen (given how precious Nolan wants to keep the Batman universe, virginal, removed from the rest of DC — which I agree with in principle but the fact is it's not the case), but I think it would be kind of badass to introduce Superman briefly, really briefly, toward the end of this film and then carry him over into his own franchise.  It's lazy to think they can't inhabit the same terrain, I think, and it would be intriguing as hell.  It doesn't have to be a "vs." kind of thing, but…
…ah screw it.  I'm done geeking out for now.  It's just nice to know casting is getting off on the right foot.
[Photo: Evening Standard]