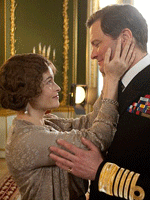 Already announced, this year's AFI Fest will be bookended by "Love & Other Drugs" and "Black Swan." Today, more news.  The press release, in part:
AFI FEST 2010 presented by Audi today announced its Centerpiece Galas, featuring ABEL (DIR Diego Luna), BARNEY'S VERSION (DIR Richard J. Lewis), BLUE VALENTINE (DIR Derek Cianfrance), CASINO JACK (DIR George Hickenlooper), THE COMPANY MEN (DIR John Wells) and an ensemble Tribute to THE KING'S SPEECH with director Tom Hooper and actors Colin Firth and Geoffrey Rush.

Also announced today are the films that will be presented as Special Screenings: The U.S. premiere of AMIGO (DIR John Sayles), CAVE OF FORGOTTEN DREAMS (DIR Werner Herzog) in 3-D, MADE IN DAGENHAM (DIR Nigel Cole) and RABBIT HOLE (DIR John Cameron Mitchell).
The festival will take place at the historic Grauman's Chinese Theatre, the Mann Chinese 6 theatres, the Egyptian Theatre and the Hollywood Roosevelt Hotel from November 4-11. The fest will also once again offer free tickets to all films, including Galas and Special Screenings  Learn more here.
[Photo: The Weinstein Company]