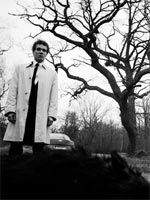 For the past few months, we've been keeping you abreast of the submissions for the Best Foreign Language Film Oscar, so this finalized list of contenders, which was sleuthed by Pete Hammond earlier this morning (and officially unveiled by AMPAS via press release here), doesn't contain too many surprises.
As usual, however, a few low-profile late entries have snuck into the mix since the October 1 submissions deadline, while one film (Afghanistan's entry "Black Tulip") appears to have been disqualified, as the country does not feature on the Academy screening schedule. An eligibility-date snafu, I'll be bound.
The four titles new to our list come from Ethiopia ("The Athlete"), Georgia ("Street Days"), Greenland ("Nuummloq") and Kyrgyzstan ("The Light Thief"). I'm hoping to see the last of those — reportedly a heartwarmer about an electrician coming to the aid of an impoverished rural community — at the London fest later this week, but the other three are unfamiliar to me. Always nice to see more African countries in the running, however.
At this stage, I've seen only nine of the 65 films, but should catch a few more in the coming weeks. Yesterday served up Estonia's dazzling but profoundly Oscar-unfriendly "The Temptation of St. Tony" (more on that in my festival coverage eventually), while tomorrow I'll be checking out China's "Aftershock." Meanwhile, I'll be offering a few collected thoughts on the race in Friday's Oscar Talk.
Meanwhile, the slate of official Academy screenings  for the volunteer voting committee kicks off on Friday with Canada's hotly tipped entry "Incendies." Check out our updated submissions list here.
[Photo: New York Times]