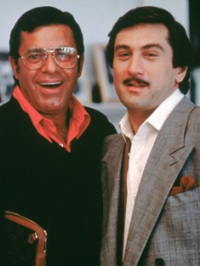 Catch up with the idea behind this series here.
1983 was dominated by James L. Brooks and his sentimental weepie, "Terms of Endearment." I can't imagine it deserved the award, but I also have no room to complain since this is one of the few Best Picture fields where the winner is the only title I've actually seen.
Linda Hunt won Best Supporting Actress for "The Year of Living Dangerously," playing a man. Felicity Huffman would come close to doing the same in 2005, while Sarah Jessica Parker sees her efforts continually overlooked film after film (I kid, I kid).
1984 was a battle royale between "Amadeus" and "A Passage to India," with Milos Forman's biopic eventually emerging triumphant. This year also saw Mr. Miyagi from "The Karate Kid" nominated in the same ceremony that awarded the first acting Oscar for an Asian to Haing S. Ngor.
Take it away, Sally Field- "The first time I didn't feel it. But this time I feel it! And I can't deny the fact that you like me! Right now, you like me!"
1983 – "The King of Comedy" (Martin Scorsese)
Guess what guys? "The King of Comedy" is the best film Scorsese has ever directed and the best performance De Niro has ever given. Crucify me if you want, and take nothing away from their amazing work on "Raging Bull," but the amazing balancing act of comedy, pathos, satire, commentary and psychology on display here is truly a once-in-a-career success.
Let's start with De Niro. Few would argue that he's in the conversation of the greatest actors of all time. His subtle, dramatic chops are legendary and he's even garnered praise recently for both his deadpan ("Meet the Parents") and broad ("Analyze This") comedy skills. He's never been funnier than as Rupert Pupkin, simply because he never lets the absurdity of the circumstances stop him from playing it 100% straight. It's the type of deeply troubled character that a lesser actor would want to keep a slight distance from, particularly in a comedy, but De Niro dives in headfirst.
He's matched by Jerry Lewis, unorthodoxly playing both a version of himself and the straight man. His mix of old school Hollywood cadence with Scorsese's new school style makes for an interesting playdate and I imagine many were surprised when they saw Lewis so subdued and bitter back in 1983. Variety's dismissive pan of the film and its anemic box office results seem to indicate that the film just didn't connect with audiences at all at the time, although now it can be viewed as decades ahead of its time.
Principally in the theme of the media making celebrities out of criminals and the psychologically impaired for our entertainment. Just how psychologically impaired Ruper Pupkin is never becomes concrete, which is one of the real joys of the film. Scorsese expertly lets the exact nature of his main character slowly emerge through inventive cutting, fantasy sequences and De Niro's tour de force, but is also quick to allow our allegiance to him form.
I can't say enough about the film and the performance. It's biting, witty, bold and prescient.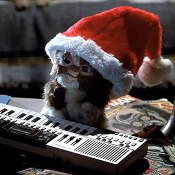 1984 – "Gremlins" (Joe Dante)
'84 is another weak year for eligible titles. What am I missing guys? And yes, I've seen "This is Spinal Tap." Anyway, let's take nothing away from "Gremlins," which is a fantastic family(?) horror/fantasy/comedy/adventure. In a way, it embodies everything about the cinema of the 1980's in one delectable stew. Puppets, Steven Spielberg's guiding hand, dark films for children, Judge Reinhold and word-of-mouth box office success.
The puppets are the true stars, with Michael Joyce and his crew amazingly robbed of any kind of Oscar consideration. The cuddly mogwai and his sinister offspring never look 100% real, but also never feel less than 100% present in the scene, which is a trade off I'd take any day of the week. By the end of the film, they are all individual characters as identifiable as any of the humans.
That's also partly because the humans aren't exactly intricately fleshed out characters. Zach Galligan is your everyday neighborhood nice guy, Phoebe Cates his wholesome girlfriend. Hoyt Axton the well-meaning father and Corey Feldman an annoying brat. The only time the characters step out of their stock outlines is a sucker-punch of a scene involving Cates and her disdain for Christmas. Weirdly out of place, but also exhilaratingly out of place for a supposed kids movie.
Joe Dante keeps things brisk and entertaining, while cinematographer John Hora has a lot of fun with the snowy environment and a great job with the unenviable task of lighting puppets to make them look real. The overall film has a great undercurrent of dread and anti-cheer, underlined by that Cates revelation. Throw in Jerry Goldsmith's properly chaotic and driving score and it all adds up to a great deal of fun.
Those are my picks. What do you guys think?
[Photo: Arts Meme]
[Photo: Killer Films]