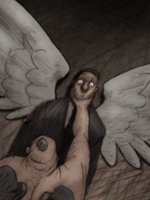 I've been making notes on this in the comments section of yesterday's Off the Carpet column throughout the morning, but it's looking more and more like the magic number of 16 won't be reached in this year's animated feature film race.  By my count, we have 12 titles.
One of them, Bill Plympton's "Idiots and Angels," may not have submitted the proper paperwork (I'm unsure at the moment).  But it opened last week in New York regardless and will hit Los Angeles screens on October 29.  Wouldn't it be great to see Plympton in the mix, though?
I had originally though the Japanese "Tales from Earthsea" would be eligible, but while opening in a foreign territory one year prior is permitted (more of this arbitrary nonsense — it's scattered throughout AMPAS rules and regs), more than that is not.  The film opened in 2006 in Japan.
Is it possible "Yogi Bear" and/or, I don't know, "Cats & Dogs: The Revenge of Kitty Galore" qualify?  The former is being submitted, but the latter, probably not.  Can the dynamic "Chico & Rita" find a domestic home in time?  But even adding them to the mix, we're two films short.  So it's likely we'll only have three nominees in the category this year, making it pretty easy to go ahead and predict "How to Train Your Dragon," "The Illusionist" and "Toy Story 3" for inclusion.
It's worth noting that the HFPA only need 12 eligible titles to nominate five, so we're probably looking at enough to get a quintet at the Golden Globes.  Check out the full list of eligible contenders (so far) at our animated feature film page.
[Photo: Bill Plympton Studio]